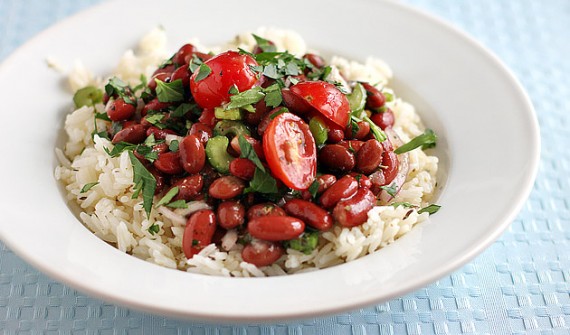 "To the beanpole dames in the magazines:
You ain't it, Miss Thing!
Give me a sister, I can't resist her
Red beans and rice didn't miss her."–Sir Mix-A-Lot, "Baby Got Back"
Red Beans and Rice is one of those dishes that sounds vegetarian but isn't. It's a Creole party on a plate, one where the beans and rice are hosting, but bacon grease, ham hocks and andouille sausage are all welcome.
It's the junk-in-the-trunk-inducing meal of Sir Mix-A-Lot's "Baby Got Back."
And it's something you shouldn't miss out on, even if you're going meatless.
That's why God made Red Beans and Rice Salad.
Instead of relying on pork for flavor, these red beans and rice get a flavor boost from a simple Creole vinaigrette (just olive oil, vinegar, thyme, oregano and Creole seasoning) that you stir into the rice, so the rice absorbs all of that loving. Then you transfer your rice to a big bowl and start adding all of the good stuff – beans, celery, grape tomatoes, red onion, fresh parsley and oregano.
Fresh and filling.
Your trunk will thank you.
Red Beans and Rice Salad

Adapted from "Taste of the South"(Special Issue: Cast-Iron Cooking)


Makes 8 servings

3 cups vegetable stock*
2 cups Jasmine rice
Creole Vinaigrette (recipe below)
2 (15.5-ounce) cans light red kidney beans, drained
1/2 cup sliced celery
1/2 cup grape tomatoes, halved
1/4 cup thinly sliced red onion OR 2 tablespoons thinly sliced shallot
1 teaspoon kosher salt
3/4 teaspoon ground black pepper
2 tablespoons chopped fresh parsley
2 tablespoons chopped fresh oregano or 1 tablespoon dried oregano

In a medium saucepan, bring stock to a boil over high heat. Add rice, stir, and cover. Reduce heat, and simmer until all liquid is absorbed, about 18 minutes. Let the rice cool slightly, and fluff rice with a fork.
Add half of the Creole Vinaigrette to the rice, stirring to combine. Taste, and add more, if needed.
In a large bowl, combine the rice, beans, celery, tomatoes, onion, shallot, salt, pepper, parsley and oregano. Serve immediately.

*Gluten-Free Tip: Use GF vegetable stock.
Creole Vinaigrette

Makes about 1 cup

3/4 cup olive oil
1/4 cup rice wine vinegar or white wine vinegar
1 teaspoon chopped fresh thyme or 1/2 teaspoon dried thyme
1 teaspoon chopped fresh oregano or 1/2 teaspoon dried oregano
1/2 teaspoon Creole seasoning

Whisk together all of the ingredients. Cover, and refrigerate for at least 20 minutes.
[ad name="space"]