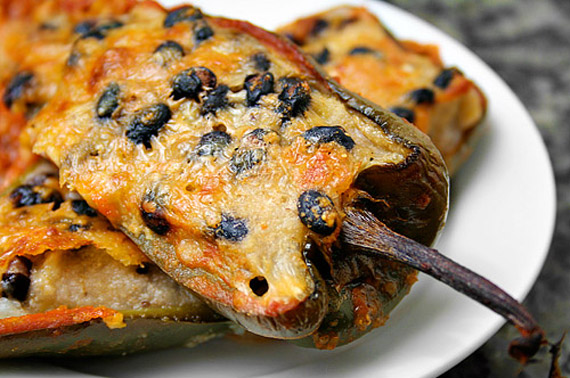 This is a recipe with possibilities.
Made as written, it will give you a pan full of poblanos stuffed with black beans, cornmeal, pepper jack, onions and cumin in a spicy tomato sauce.
But think about how many changes you could make to that filling.
Instead of cornmeal, you could use cooked rice or cheese grits. You could substitute pintos for the black beans, habanero cheddar for the pepper jack. Add spinach, corn and mushrooms. Change up the spices. Toss in some cilantro.
Once the poblanos are out of the oven, you can pile on even more flavor with sour cream, freshly chopped cilantro or scallions and lime zest. Or a little guacamole.
It's hard to get enough guacamole into your diet.
Stuffed Poblanos

Adapted from "Everyday Food"

Serves 4

1 can (28 ounces) whole tomatoes in puree
1 jalapeno, ribs and seeds removed, minced
2 small onions, chopped
3 garlic cloves (2 whole, 1 minced)
Coarse salt and ground pepper
1 can (19 ounces) black beans, rinsed and drained
1/2 cup yellow cornmeal
1 cup shredded pepper Jack cheese
1 teaspoon ground cumin
4 large poblano chiles, halved lengthwise (stems left intact), ribs and seeds removed
Garnishes: sour cream, cilantro, lime zest

Preheat oven to 425 degrees F.

In a blender, combine tomatoes in puree, jalapeno, half the onions, and 2 whole garlic cloves; puree. Season with salt. Pour sauce into a 9-by-13-inch baking dish; set aside.

In a medium bowl, combine beans, cornmeal, 1/2 cup cheese, remaining onions, minced garlic, cumin, and 3/4 cup water; season with salt and pepper. (The mixture might look watery and not so appetizing. Forge ahead!)


Stuff poblano halves with bean mixture; place on top of sauce in baking dish. (If you have extra bean filling, you can add it to the dish.) Sprinkle poblanos with remaining 1/2 cup cheese; cover dish with aluminum foil.

Bake until poblanos are tender, about 45 minutes. Uncover, and continue to cook until sauce is thickened slightly and cheese is browned, 10 to 15 minutes more, rotating after 6 minutes. Let cool 10 minutes.
[ad name="space"]