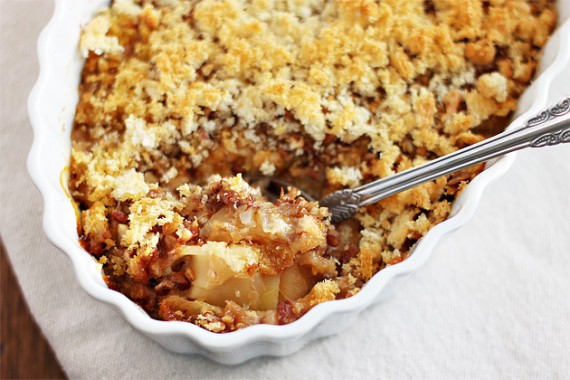 There's a scene in "Tombstone"
 when Doc Holliday says to his lady friend, "It's true, you are a good woman. Then again, you may be the antichrist." And that's how I felt while I was making this Apple Onion Cheese Gratin. That it was either going to be surprisingly good or nasty enough to bring the End of Days.
Savory apple dishes are a little outside my wheelhouse. Here, if you see apples on the dinner table, they've most likely been cooked in butter and brown sugar. That's not a complaint.
But my mind kept wandering back to this recipe until I finally had to try it. It's a casserole for people who love contrasts – the sweetness of the apples and onions versus the sharp bite of the Cheddar cheese, the creaminess of the nutmeg-spiked roux versus the crunch of the chopped pecans and crispy bread crumbs.
Serve it as a main dish on Monday, then as a side on Tuesday, preferably next to a big pork chop. I don't care what Peter Brady says. Applesauce is for people who don't have teeth.
Apple Onion Cheese Gratin

Slightly adapted from "Moosewood Restaurant New Classics"

Serves 4 to 6

1 cup milk
1 tablespoon butter
1 tablespoon all-purpose flour
1/2 teaspoon ground nutmeg
1/2 teaspoon salt
Pinch of ground cloves
4 cups peeled, cored, and sliced apples
1 cup chopped onion
2 cups grated Cheddar or Gruyere (or 1 cup each)
1 cup chopped pecans
1 cup bread crumbs
2 tablespoons brown sugar (optional)

Preheat the oven to 350 degrees F. Lightly oil an 11 x 7-inch baking dish.
In a small pot, scald the milk over medium heat, bringing it almost but not quite to a boil.
In another small pot, melt the butter over medium heat and whisk in the flour.
Slowly add the scalded milk to the flour, whisking continuously until the sauce starts to thicken. (Whisk slowly so you can feel the change in the sauce.)
Add the nutmeg, salt, and cloves, and stir for about 4 minutes, until thick. Remove from the heat, and set aside.
Spread the apples and onion evenly in the prepared dish.
Sprinkle on the grated cheese, and pour the sauce over the top.
Scatter on the pecans and bread crumbs (seasoned with 2 tablespoons brown sugar, if you like).
Bake uncovered for 45 minutes, until the top is golden and crisp.

Nutritional Info Per 6.5-Ounce Serving – 326 calories, 12.1g protein, 21.6g fat, 24.1g carbs, 3.9g fiber.
[ad name="space"]