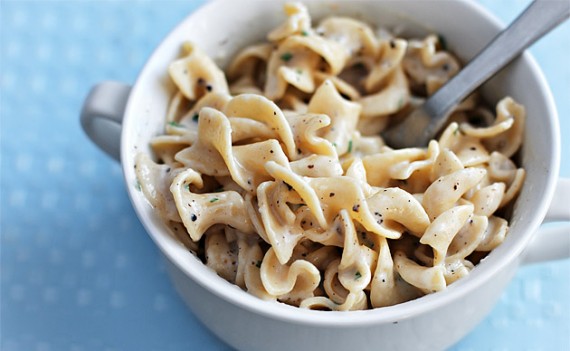 Cacio e Pepe.
It sounds like a cartoon about a constipated elephant and a horny skunk, but literally, it's Italian for "cheese and pepper."
Cacio e Pepe is a classic Roman pasta dish made with Pecorino Romano and freshly cracked black pepper. Some say it should be made with just those three elements (and a little pasta water). Others make it with a little butter or extra-virgin olive oil.
The nice thing is, it's so simple that no matter how you make it, you'll never need the recipe again. First, you boil your pasta, and while it's bubbling, you warm some olive oil in a large skillet. When the oil starts to shimmer, you add a few teaspoons of freshly cracked black pepper. (Toasting the pepper in olive oil for a minute or two intensifies the flavor and makes the olive oil nice and peppery, too.) Then you add your barely-drained pasta to the pan, and quickly toss it with the peppery olive oil and a few handfuls of salty Pecorino Romano. After about two minutes, the cheese will start to melt, and you'll have this creamy, peppery pan sauce clinging to every bite.
Of course, if you don't want to toast the pepper in olive oil (or add olive oil at all), you can just drain the pasta (reserving a cup of pasta water), return it to the original cooking pot, and add the pepper and Pecorino. You might have to add more pasta water, but you'll still get that amazing sauce.
It's a beautiful thing.
Now, can someone get that elephant a laxative?
Cacio e Pepe

Adapted from "Saveur" (April 2010)


Serves 4 as a main dish

1 pound pasta (such as egg pasta or spaghetti)
1/4 cup extra-virgin olive oil
2 teaspoons freshly cracked black pepper, plus more to taste
1 3/4 cups finely grated Pecorino Romano

Cook pasta according to package directions until al dente. Ladle 1 cup pasta water into a glass measuring cup, and drain pasta.
Meanwhile, heat oil in a 12″ skillet over medium heat until shimmering. Add pepper; cook until fragrant, 1–2 minutes. Stand back, and ladle 3/4 cup pasta water into skillet. Bring to a boil.
Using tongs, transfer the pasta to the skillet.
Sprinkle 1 1/2 cups Pecorino Romano over pasta, and toss to combine until sauce is creamy and clings to the pasta without clumping, about 2 minutes. (Add some pasta water if necessary.)
Serve immediately with remaining Pecorino and more pepper.