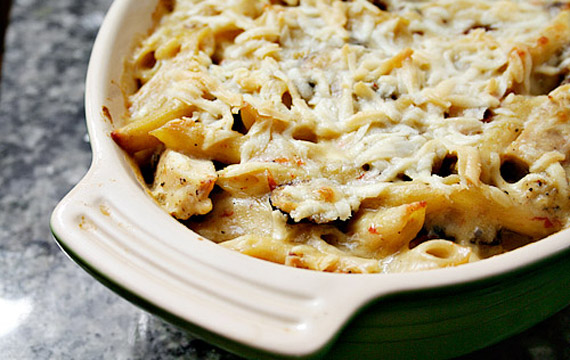 Laura wrote in and asked, "What meal would you take to a new mom?"
I think something like this Baked Penne with Chicken and Sun-Dried Tomatoes might work. You've got two family-friendly choices, pasta and chicken, and your friend can keep it in the freezer for up to three months.
Ah, the luxury of knowing you have a homemade dinner waiting anytime you want it.
There are three things you should know about this recipe:
1.) It makes enough for two 2-quart baking dishes. One for you to keep and one to share. Or, one to share and one to freeze.
2.) If you're not sure about the mushrooms and/or sun-dried tomatoes, you can replace them with an extra half chicken breast or other vegetables. Roasted red peppers would be good. Artichokes. Frozen peas or corn. Squash. Zucchini. Broccoli florets. Spinach. Lots of ways to go with this.
3.) The recipe doesn't contain any seasonings beyond garlic, salt and pepper, so it might be a little bland straight from the oven. If that's the case, you can jazz up the baked pasta with fresh basil, a dash of Cajun seasoning, or chopped scallions or chives. But an overnight stay in the fridge will work wonders. Your friend's batch will be as comforting as a big bear hug.
Now, send me that baby!
Baked Penne with Chicken and Sun-Dried Tomatoes

Adapted from "Everyday Food"

Serves 8

6 tablespoons butter, plus more for baking dishes
coarse salt and ground pepper
1 pound penne rigate
1 teaspoon olive oil
2 boneless, skinless chicken breast halves (8 ounces each), halved horizontally
1/2 cup plus 2 tablespoons all-purpose flour (spooned and leveled)
4 garlic cloves, minced
6 cups whole milk
10 ounces white mushrooms, trimmed and thinly sliced
1/2 cup oil-packed sun-dried tomatoes, drained and thinly sliced
1 1/2 cups shredded provolone (6 ounces)
1 cup finely grated Parmesan (4 ounces)

Preheat oven to 400 degrees F. Butter two shallow 2-quart baking dishes. In a large pot of boiling salted water, cook pasta 3 minutes short of al dente; drain pasta, and return to pot.

In a large nonstick skillet, heat oil over medium-high. Season chicken with salt and pepper; cook until opaque throughout, 3 to 5 minutes per side. Halve each piece lengthwise, then thinly slice crosswise.

In a 5-quart Dutch oven or heavy pot, melt butter over medium. Add flour and garlic; cook, whisking, 1 minute. While whisking, gradually add milk; bring to a simmer, whisking frequently. Add mushrooms and tomatoes; cook 1 minute. Off heat, gradually stir in provolone and 1/2 cup Parmesan.

Add chicken and pasta to pot; season with salt and pepper. Divide pasta mixture between baking dishes; sprinkle each with cup Parmesan.

Bake, uncovered, until top is golden and bubbling, about 25 minutes. Let stand 5 minutes before serving.

If you're freezing the second dish: Prepare through step 4; let cool. Cover tightly with foil, and freeze, up to 3 months. To bake, preheat oven to 400 degrees F, and bake (still covered in foil) on a rimmed baking sheet until center is hot, about 1 1/2 hours. Remove foil; bake until golden, about 15 minutes more.
[ad name="space"]