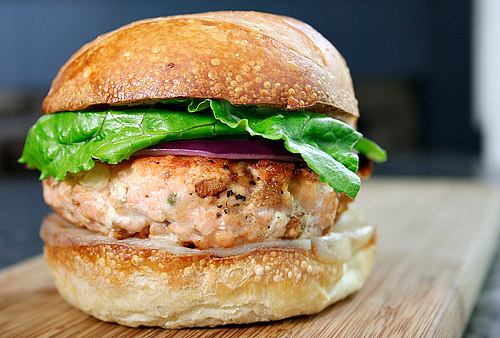 A couple of years ago, I worked at a bakery/café that served some amazing salmon burgers. But the burgers weren't made in-house, so I always assumed the process was complicated or time-consuming.
It's neither.
In fact, you can crank out these Salmon Burgers in about the same amount of time it takes to heat up a frozen pizza. And they are good.
When I stumbled onto Mark Bittman's recipe yesterday, I was ready for it to require an overnight chilling or truffle oil, but it's incredibly simple. You might even have most of the ingredients on hand: salmon, Dijon mustard, shallots, bread crumbs and capers. The "secret" is that you let your food processor do most of the work, followed by a little stirring. Shape the burgers, cook them in a nonstick skillet, and you're done.
The burgers are firm but juicy, and the capers add a nice surprise to each bite. I sandwiched mine in a toasted hamburger bun with lettuce, thinly sliced red onion, a slice of Provolone and a little tartar sauce, but they could definitely hold their own on a bed of greens.
Salmon Burgers

Adapted from Mark Bittman ("Bitten," NYT, June 6, 2008)

Yield: 4 large burgers

1 1/2 pounds skinless, boneless salmon
2 teaspoons Dijon mustard
2 shallots, peeled and cut into chunks
1/2 cup coarse bread crumbs
1 tablespoon capers, drained
Salt and freshly ground black pepper
2 tablespoons butter or olive oil
Lemon wedges
Tabasco sauce
Optional burger toppings: lettuce, red onion, Provolone, tartar sauce

Cut the salmon into large chunks, and put about a quarter of it into the container of a food processor, along with the mustard. Turn the machine on, and let it run – stopping to scrape down the sides if necessary – until the mixture becomes pasty.
Add the shallots and the remaining salmon, and pulse the machine until the fish is chopped and combined with the puree. No piece should be larger than a quarter inch or so; be careful not make the mixture too fine.
Scrape the mixture into a bowl, and stir in the bread crumbs, capers and some salt and pepper. Shape into four burgers.
Place the butter or oil in a 12-inch nonstick skillet, and turn the heat to medium-high. When the butter foam subsides or the oil is hot, cook the burgers for 2 to 3 minutes a side, turning once. Alternatively, you can grill them: let them firm up on the first side, grilling about 4 minutes, before turning over and finishing for just another minute or two. To check for doneness, make a small cut and peek inside. Be careful not to overcook. Serve on a bed of greens or on buns or by themselves, with lemon wedges and Tabasco or any dressing you like.

Nutritional Information (Per Salmon Patty) – calories: 362, fat: 18g, carbs: 10.7g, fiber: 0.7g, protein: 35.8g, PP+ = 14
[ad name="space"]