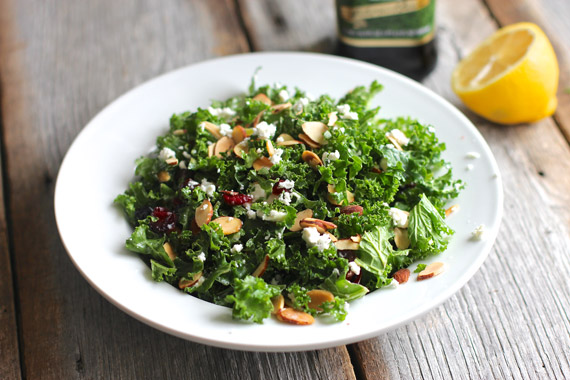 I cannot lie. I hate vegetables. Cooked, raw, steamed or roasted, they will never compare to a cheeseburger.
In the last few years, I have reconciled myself to the fact that I do need them to survive. Even more importantly, I do not want my children to grow up with my mindset. I diligently cook a variety of vegetables in a myriad of ways to tantalize their taste buds.
When I'm feeling especially anti-vegetable, I just serve up a salad – usually some "variety" lettuce with diced tomato and shredded carrots. It's not thrilling, but it counts. However, I have decided to join Bec this year in embracing vegetables, so I have been studying and making flow charts.
Anything other than eating them.
In my research, I kept reading about kale, the wonders of kale, the superfood and cure-all Kale. If I could choke it down, surely it would count for two or three servings of other, lesser vegetables. So, I decided to try Nava Atlas's Kale Salad with Dried Fruit and Nuts, mainly because I had all the ingredients in the house.
This recipe calls for "massaging" the kale. No, you don't have to light candles and play it some Enya. You put a little bit of olive oil in one palm, rub your palms together, and then rub the kale leaves for about a minute. Massaging the raw kale makes it turn bright green and get a lot softer. See the two plates of kale below? The kale on the left just fell out of the bag. The kale on the right has been massaged.
I've never been so jealous of a vegetable.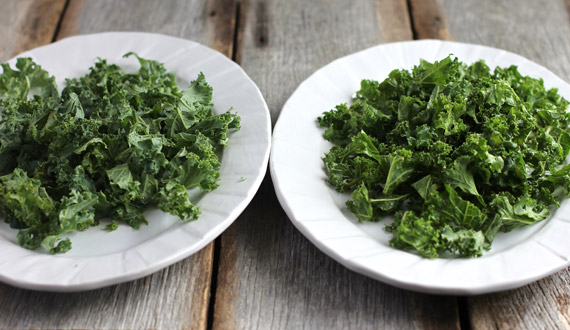 When the kale's ready, you toss it with some nuts, dried fruit, olive oil, lemon and honey. I did not have high hopes for this salad, so I also added some goat cheese. Everything's better with cheese.
The first bite, not too bad. Second bite, actually pretty decent. Third bite, I liked it!
When Husband came home from work, I gave him a bowl. (Side note: Husband believes salad belongs on a sandwich or next to a steak for aesthetics.) He didn't speak a word until his bowl was empty, and then he asked for another. During our seven years of marriage, Husband has never asked for seconds of a salad.
I asked him if he liked it, and he said, "That's a damn good salad."
You can't do better than that high praise.
Kale Salad with Dried Fruit and Nuts

Adapted from Nava Atlas's  "Wild About Greens"

Makes 6 servings

1/2 cup toasted almond slices
1/2 bag (about 8 ounces) kale, preferably curly
1/2 cup dried fruit (your choice)
2 tablespoons crumbled goat cheese (optional)
2 tablespoons extra-virgin olive oil, plus a little more for massaging the kale
Juice of 1/2 lemon, to taste
1 tablespoon agave nectar or honey
Salt and freshly ground pepper, to taste

Preheat the oven to 350 degrees F. Spread the almonds on a baking sheet, and toast for 5 minutes. Set aside.
To Prep the Kale: Strip the kale leaves from the stems. Cut the leaves into bite-size pieces, rinse, and dry. Measure the kale into a large mixing bowl. Rub a small amount of olive oil between your palms, and massage the kale leaves for 30 to 60 seconds, until the kale turns bright green and softens.
Stir in the remaining ingredients, and dig in.