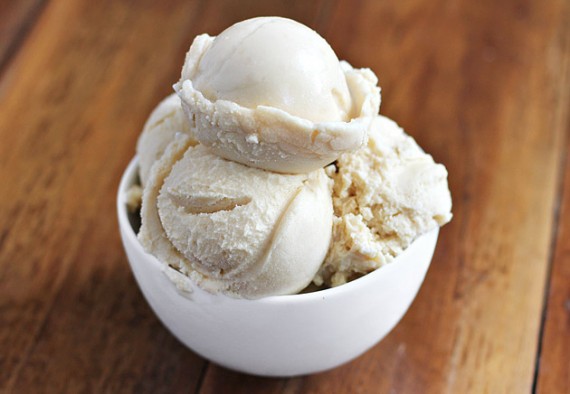 Think of all the autumn desserts that are better with ice cream. The pies, cobblers and crisps. The cinnamon-spiced baked apples and caramelized pears. The fruit turnovers, maple-pecan bars and warm apple dumplings.
Now, imagine them with a big scoop of Maple Gelato instead of vanilla ice cream.
I KNOW!
Maple works so beautifully to enhance the flavors of things like apples, pears, sweet potatoes and nuts – not to mention pork and salmon – that I can't believe this hasn't been our go-to autumn ice cream flavor all along.
It's also delicious on its own, and – not to contribute to next year's bacon shortage, but – I've got a feeling you could put a few scoops of Maple Gelato into a blender, add a splash of milk and some crumbled bacon, and have one killer maple-bacon shake.
This recipe is pretty straightforward, but be sure to pick up a bottle of grade B maple syrup (not grade A). You need something strong enough to cut through all the milk, eggs and cream, and grade B is the strongest you'll find in U.S. groceries. Grade A is for pancakes. Grade B is for cooking.
Go, Team Maple!
Maple Gelato

Adapted from Kristie Green, owner of Maple's Organic Desserts (via "Portland, Maine Chef's Table" by Margaret Hathaway)

Makes about 1 quart

1 cup maple syrup, darkest available (look for a grade B)
4 egg yolks
2 1/2 cups milk
1/4 teaspoon sea salt
1/2 cup heavy cream

In a medium-sized heatproof bowl, beat together the maple syrup and egg yolks until the mixture gets noticeably lighter in color. Set aside.
Heat the milk and sea salt in a 3-quart saucepan over medium heat. Bring the mixture to a boil, then remove from heat.
Whisking constantly, pour 1/2 cup of the hot milk into the egg yolk mixture.
Pour the warmed egg mixture back into the large saucepan with the rest of the milk. Add the cream. Cook over low heat, stirring constantly, until the mixture is thick enough to coat your spoon. Take the pan off the heat.
Place a fine mesh sieve over a container, and pour your gelato base through the sieve.
Let the mixture cool for about 20 minutes. Then cover and refrigerate overnight.
Freeze the gelato in your ice cream maker according to the manufacturer's instructions.
[ad name="space"]