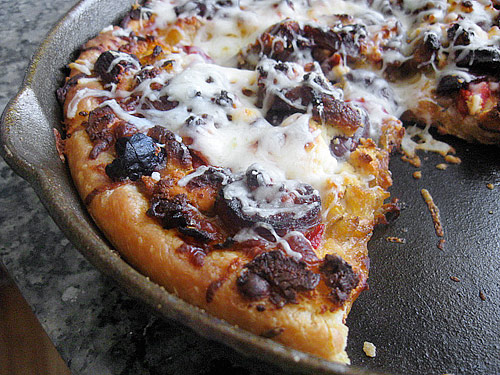 When I go to Goodwill, I find Huxtable sweaters, used crutches and moldy copies of the Encyclopedia Britannica. When Karen Beth goes to Goodwill, she finds immaculate vintage dresses, cool/kitschy artwork and the original documents of the First Continental Congress. She's got mad thrifting mojo. A few months ago, she found me a copy of Peter Mayle's "A Year in Provence."
The book recounts the "charms and frustrations" Peter and his wife, Jennie, experienced as they made the leap from British tourists to residents of Provence. If you've ever vacationed in another place and seriously considered staying, this is a book for you.
So, when Mary of The Food Librarian chose "anything literary" as the theme for this month's You Want Pies With That? challenge, I decided to create "A Year in Provence" Deep-Dish Pizza Pie. A rustic pizza featuring some of the flavors of Provence – olive oil, caramelized onions flavored with herbes de Provence (typically basil, bay leaf, lavender, marjoram, rosemary and thyme), roasted red bell pepper, olives, sausage and goat cheese – baked in a cast-iron skillet for a nice crisp crust.
Now that I've seen how easy it is to make and bake pizza in a cast-iron skillet, I think our Friday night pizza deliveries are over. Most of the toppings I used were remnants from other meals, making this one seriously cheap pizza. Thanks for the inspiration, Karen Beth and everyone with You Want Pies With That? A Huxtable sweater to you all.
P.S. Mary is giving extra points to anyone who's visited the library in the past year. My mom's a librarian, and I'm cheap, so I've spent a lot of time in libraries. In fact, I was conceived on a set of card catalogs. Beat that, ladies.
"A Year in Provence" Deep-Dish Pizza Pie


From Rebecca Crump (EzraPoundCake.com)

Pizza dough (homemade or store-bought)
1 tablespoon olive oil
1 onion, thinly sliced
1/2 teaspoon kosher salt
1/2 teaspoon pepper
1/2 teaspoon herbs de Provence
1/2 teaspoon sugar
1 tablespoon extra-virgin olive oil
8 ounces mozzarella
1 roasted red bell pepper, sliced thin
1/4 cup Kalamata olives, sliced or smashed
4 to 6 ounces hot Italian sausage, sliced or crumbled
3 ounces goat cheese, crumbled
1 cup Parmesan

Preheat the oven to 475 degrees F.
To Caramelize Onions: In a small skillet, heat the oil over low heat. Add the onions, salt, pepper, herbs de Provence and sugar. Stir to combine. Continue cooking, stirring occasionally, until the onions are caramelized and dark golden brown, about 30 to 45 minutes. Remove from heat; set aside.
While the onions are caramelizing, prep the rest of the pizza toppings, including browning the sausage.
Lightly grease a deep-dish pizza pan or cast-iron skillet with extra-virgin olive oil. Press the pizza dough into the pan. Let it rest for 5 minutes.
Start layering toppings on the dough, first the mozzarella, then caramelized onions, red bell pepper, olives and sausage. Top it with the goat cheese and Parmesan.
Bake until the cheese is bubbly and the crust is golden brown, about 25 minutes.
[ad name="space"]