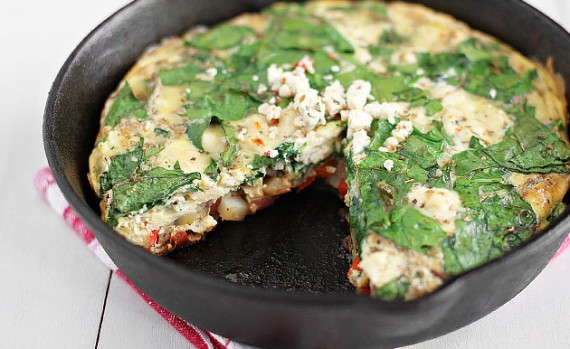 Eating vegetables in the summertime is easy, when the ripe tomatoes taste like sunshine and Silver Queen corn is the only side you need. But "eating a rainbow" in early spring is tough. I'm just not sophisticated enough to crave artichokes, celery root or fiddlehead ferns.
I prefer my carrots with cream cheese frosting.
But I have found a suitable, even craveable, veggie delivery system for spring: this low-carb, vegetable-packed Greek Frittata. It's a skillet full of onion, mushrooms, potato and red bell pepper sautéed in olive oil and topped with four lightly beaten eggs, just enough to bind the vegetables together. The eggs are combined with wilted spinach, which makes a pretty green canopy on top of the dish, as well as a handful of tangy crumbled feta and oregano, which flavor the vegetables all the way to the bottom of the skillet.
A wedge of something this healthy for breakfast or lunch, and you won't have to feel nearly as guilty about those sweet potato tater tots.
Frittata with Spinach, Potatoes, Peppers and Feta

Adapted from Jillian Michaels' "The Master Your Metabolism Cookbook"

Serves 4

2 cups baby spinach
1 tablespoon olive oil
1 cup diced red onion (I used much less, about 1/4 cup.)
Pinch of salt
1 cup mushrooms, trimmed and sliced
1 very small (about 3 ounces) russet potato, cut into 1/4-inch cubes (about 1/2 cup)
1/2 red bell pepper, cut into 1/4-inch cubes
4 large eggs
1/2 cup crumbled low-fat feta cheese (optional)
1 teaspoon dried oregano
1/4 teaspoon ground black pepper

Set a rack about 4 inches from the broiler, and preheat the broiler to low.
Heat an 8- to 10-inch cast-iron skillet (or other ovenproof pan) over low heat. Add the spinach and 1 tablespoon water to the pan. Cover, and cook until the spinach is barely wilted, about 1 minute. Place the spinach onto a kitchen towel (or paper towels) to dry as much as possible. Wipe the skillet clean.
Add olive oil to the skillet, and place over medium heat. Add onion and salt, and cook, stirring occasionally, about 2 minutes.
Add mushrooms, and cook, stirring occasionally, an additional 2 minutes.
Stir in the potato and pepper, cover, and cook, stirring once or twice, until the potato is tender, another 5 to 7 minutes.
Meanwhile, in a medium bowl, whisk the eggs until lightly beaten. Stir in the reserved spinach, feta, oregano and black pepper.
When the potato is cooked, pour the egg mixture over it. Reduce the heat to low, cover the pan, and cook until the eggs are set around the edges, about 10 minutes. Gently shake the pan every once in a while.
Place the skillet under the broiler for 2 to 3 minutes, until the top of the frittata is puffed and lightly browned. Let the frittata cool for about 5 minutes.
Using a wooden or plastic spatula, loosen the frittata from the skillet, and slide it onto a plate.

Nutritional Info (Per Serving) – calories: 198 calories, fat: 11g, protein: 14g, carbohydrates: 12g, sodium: 511mg
[ad name="space"]