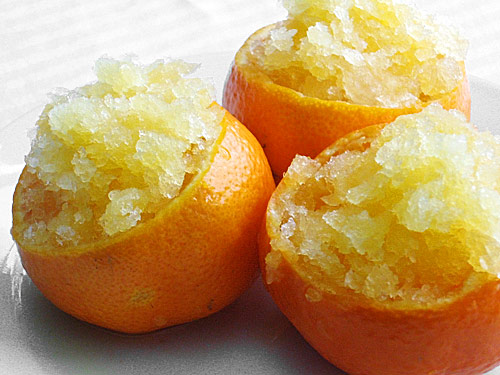 The clementines are finally in!
I was so excited to see them that I picked up my little wooden box from the grocery, slid it into the fridge and completely forgot about them–what with all the cookies, layer cakes and cheese balls roaming around–until today, when I remembered I had five pounds of clementines that needed to be eaten ASAP. Five sweet, easy to peel, practically seedless pounds of orangey potential.
The perfect opportunity to try a Clementine Granita.
Yes, I know it's cold outside, snowy even, but hang with me. All this dessert requires is clementine juice, sugar, maybe a little rum, and four to six hours in the freezer. Every few hours, you rake a fork through the mixture. That's it. But this simple dessert is so light, so cold and so packed with magical clementine flavor … It could shake up a brunch, soothe a sore throat or be the perfect non-gut-busting ending to a heavy winter meal.
Clementine Granita

Adapted from Emeril Lagasse (Food Network)


Serves 6

3 cups fresh clementine juice, pulp removed (about 12 to 14 large clementines, juiced)
1/3 cup superfine sugar, or to taste depending on sweetness of clementines
2 tablespoons light rum, optional

Combine clementine juice, sugar and rum, if desired, stirring to dissolve the sugar. Adjust the sweetness with more sugar, if needed.
Pour mixture into a 9-inch square pan or dish. Freeze, stirring and crushing lumps with a fork every few hours. Serve in hollowed out clementine rounds, if desired.

Nutritional Info (Per Serving, w/o rum) – calories: 96.7, fat: 0.3g, carbs: 23.5g, fiber: 0.3g, protein: 1g, PP+ = 3
[ad name="space"]