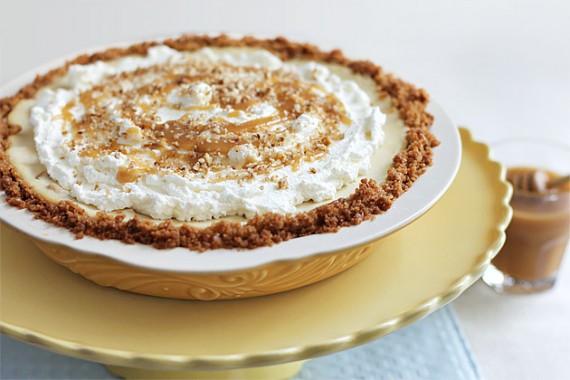 One of the best things about living in a new city is the anonymity. In my hometown, I can't make it through a trip to Walmart without seeing someone I know. During my last gynecological exam, my doctor called in her new assistant, who just so happened to be one of my high school classmates.
Oh, yes. Can I get a high-five?
No, it was totally insane.
And you know I had to tell my sister all about it over a slice of Candy Apple Pie.
This pie is ridiculously decadent. The perfect dessert for this hazy liminal period, between state fairs and harvest festivals, when you can't keep yourself from lighting that Spiced Pumpkin candle even though it's 90 degrees outside. The graham cracker crust and whipped cream remind you of summery icebox pies, but the caramel, pecans and caramelized apples are all about the fall.
And the cheesecake layer? Well, that's just the genius of MiMi Hodge, who created this pie and won Good Morning America's national pie contest in 2000.
This pie starts with a graham cracker crust topped with caramel and a cup of chopped pecans. Then you simmer your sliced apples in butter, brown sugar and cinnamon until they're tender and give the house that "OMG, what's cooking?" smell. Once you spoon the apple filling into the crust, you're ready to add the fluffy cheesecake layer and bake the pie. Then, after it's cooled, you add even more goodness: whipped cream, more caramel and more pecans.
It's a showstopper.
The kind of pie you bring to a potluck, and people look at you like you're a natural-born goddess with magic shooting through your fingers.
The kind of pie you share with people you love.
Especially when you have a good story.
Candy Apple Pie

Adapted from MiMi Hodge, winner of Good Morning America's "Pie of Emeril's Eye" Contest, 2000

Crust:
1 1/2 cups graham cracker crumbs
3 tablespoons sugar
1/2 teaspoon cinnamon
1/3 cup butter, melted
3/4 cup caramel ice cream topping
1 cup chopped pecans

Apple Filling:
5 Granny Smith apples (peeled, cored, sliced very thin)
5 tablespoons butter
1/2 cup brown sugar
1/4 teaspoon salt
1 teaspoon cinnamon

Cream Cheese Topping:
8 ounces cream cheese
1 teaspoon vanilla
1 egg
1 tablespoon lemon juice
1/4 cup sugar

Topping:
3/4 cup heavy cream, whipped
2 tablespoons sugar
1/2 cup caramel ice cream topping
1/4 cup chopped pecans

Preheat oven to 375 degrees F.
For the Crust: In a medium bowl, combine the crumbs, sugar, cinnamon and melted butter. Mix well and press into a 10-inch pie plate and up the sides. Bake for 6 to 8 minutes until golden in color. Remove pie shell from oven and cool completely.
Pour caramel into pie shell, and sprinkle with 1 cup of chopped pecans. Refrigerate pie shell while making apple filling.
For the Apple Filling: In a large (12-inch) skillet over medium heat, melt butter and add brown sugar, salt and cinnamon. Stir with a wooden spoon. Add apples and stir. Cook over medium to medium-high heat for 15 to 20 minutes until apples are softened and tender. Let cool for 10 minutes and pour into pie shell.
Reduce oven to 350 degrees F.
For the Cream Cheese Topping: In a medium bowl, using a hand-held mixer on low speed, combine cream cheese and sugar for about 1 minute until smooth. Add egg, lemon juice and vanilla and beat for 1 minute or until fully blended. Pour over apple filling in pie shell.
Bake for 30 minutes until an inserted knife comes out clean. Remove pie from oven and let cool. Refrigerate for 4 hours. Let stand outside the refrigerator for 30 minutes.
Top with whipped cream, caramel and pecans, and serve.
[ad name="space"]