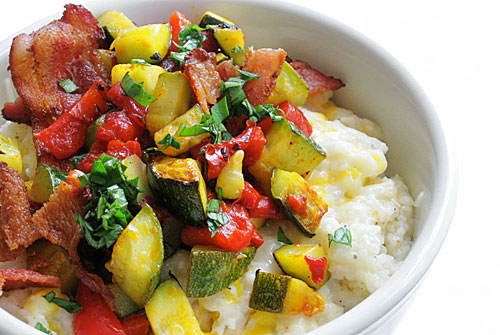 A lot of people don't get grits. There's the name. Then there's the unfortunate way some people insist on preparing them, adding too much water and dressing them like Cream of Rice. When I see someone spooning sugar onto their grits, it gives me the same sick feeling as those photos of Hulk Hogan rubbing suntan lotion onto his daughter's thighs. Oh, the undeniable wrongness.
Here is the key to grits: dress them like a baked potato. Only stir in cream instead of sour cream. Salt and pepper? Yes. Different kinds of cheeses? Yes. Ham? Bacon? Shrimp? Oh, yes. Roasted veggies work. Fresh herbs work. Hot sauce, definitely. And all this versatility means grits are great for any meal, as an entrée or side dish. My mom makes shrimp and grits for our holiday meals. I make grits as comfort food.
Yesterday, Plumber No. 3 finally fixed the plumbing in the kitchen. The repairs required opening the basement ceiling to access the old pipes, which had been leaking some sort of sludge (surprise!), so the house smells like a body farm. But we can use the sink! We can run the dishwasher! And for these things I am truly thankful.
To celebrate, I made myself some Summertime Cheese Grits inspired by a recipe in Sara Foster's "Fresh Every Day."
Grits stirred with grated pepper jack and corn kernels and topped with sautéed zucchini and red bell pepper, fresh basil and bacon. I fully intend on eating these grits for every meal until they are gone.
And then I'm going to wash my dishes INSIDE the house.
Life is good.
Summertime Cheese Grits with Vegetables


Adapted from Sara Foster's "Fresh Every Day"


Serves 4

Grits:
2 teaspoons sea salt, plus more to taste
1 cup stone-ground yellow grits (OR your choice of grits)
1 cup milk
1 cup fresh or frozen corn kernels
3 tablespoons unsalted butter
1 cup grated pepper jack cheese (about 3 ounces)
1 teaspoon freshly ground black pepper, plus more to taste

Topping:
1 small summer squash or zucchini, chopped or diced
1 red bell pepper, diced
1 tablespoon butter
1 tablespoon olive oil
Basil leaves, to taste
2 slices cooked bacon (optional)

If Using Stone-Ground Grits: Bring 3 cups of water to a boil in a large saucepan over high heat. Stir in the salt. Add the grits in a slow, steady stream, whisking constantly. Reduce the heat to medium low, and cook the grits, stirring frequently, for 40 to 45 minutes, until they are thick-soupy and the grains are tender to the bite.
If Using Another Type of Grits: Cook according to package directions.
Stir the milk and corn kernels into your grits, and cook for about 2 minutes to warm the corn.
Remove the grits from the heat.
Stir in the butter, pepper Jack, and pepper, and continue to stir until butter and cheese are melted. Season to taste. If the grits are stiff (rather than loose and creamy), stir in more milk to loosen them. Cover the saucepan to keep the grits warm until you're ready to serve.
To Prep the Vegetables: Chop or dice the squash (or zucchini) and red bell pepper, and sauté in 1 tablespoon butter and 1 tablespoon olive oil until the vegetables are tender. Pour the vegetables over the warm grits. Top with thinly sliced basil leaves. Add crumbled bacon, if using.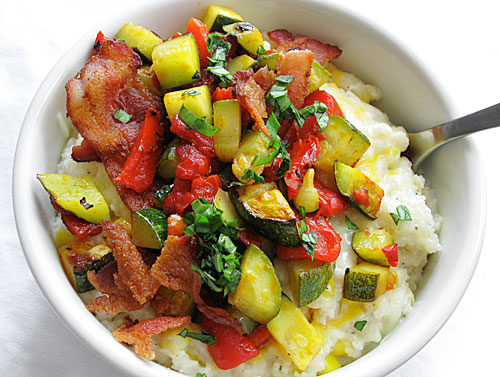 [ad name="space"]