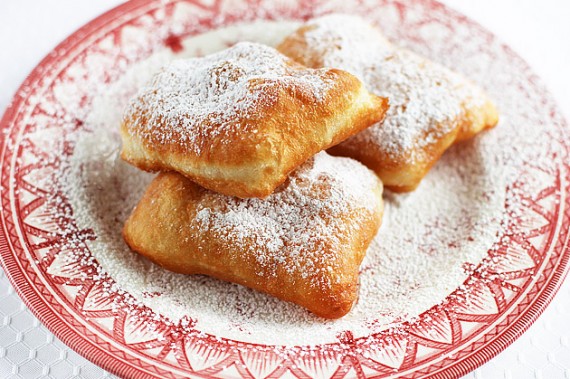 When I was 19, I went through my first really bad break-up. The kind where the other person won't stop calling, and you can't remember how to do anything but cry, stare into space and be miserable. After a few days of this, my daddy told me to throw some T-shirts and shorts into a bag. He was driving me to Gulf Shores.
I guess he figured that, if I was going to stare into space all day, I might as well be facing the ocean.
Unfortunately, no one told Alabama we were coming.
It was cold. Way too cold for the beach. We toured a battleship and Bellingrath Gardens and picked up some brochures advertising events we were either a week too late or a month too early for. I really thought we might head home early, but then my father said the most shocking thing I've ever heard come out of his mouth.
"Why don't we just drive to New Orleans?"
Something you should know is that my daddy lives by a code. He avoids large crowds and anywhere where people might be drunk. He doesn't believe that anything good happens after midnight. He once drove us all the way to Memphis to see Graceland and turned the car around, because the line was too long.
You'd think New Orleans, where all kinds of things happen after midnight, would have been his own personal hell, but if it was, he never let on. As soon as I said, "OK," he pointed the truck toward the Crescent City. We started talking about things we wanted to see, and when we got there, we went on every tour we could find. Historical. Architectural. Jazz. Garden District. Voodoo.
Soon, I was too busy looking forward to things to think about what I'd left behind.
Where I'd been heartbroken, now I was just hungry, and there's no better place to be hungry than New Orleans. We had muffulettas and po' boys, gumbo, pralines and enough fried oysters to put a severe dent in the world supply.
Every meal was a feast. Especially the last one.
We made one final stop at Café du Monde. If you've never been, it's a legendary coffee shop under a big canopy in the French Market that's famous for serving beignets, which are square-shaped pillows of deep-fried dough rolled in a blizzard of powdered sugar. Sitting there, with a café au lait the size of my head and a basketful of warm beignets, I felt something I hadn't felt in a long time.
Happy.
Deep down in my bones happy.
And the heartbreak that had owned me a week earlier was like the powdered sugar on my shirt. Messy, but temporary. Nothing I couldn't handle.
Thanks to a well-timed road trip with my daddy.
Beignets

Adapted from "Southern Living" (February 2011)

Makes 36 (or beyond, depending on what size you make the squares)

1 (1/4-ounce) envelope active dry yeast
3/4 cup warm water (105 to 115 degrees F)
1/4 cup granulated sugar
1/2 cup evaporated milk
1 large egg, lightly beaten
1 tablespoon vanilla
1 teaspoon freshly grated nutmeg
1/2 teaspoon salt
2 tablespoons shortening or softened butter
4 cups all-purpose or bread flour
Vegetable oil, for frying
1 1/2 cups confectioner's sugar, for dusting

In the bowl of a stand mixer fitted with a dough hook, combine yeast, water, and a pinch of sugar. Let stand 10 minutes.
Add 1/4 cup sugar, evaporated milk, egg, vanilla, nutmeg and salt.
With the mixer on low speed, slowly add half the flour, mixing just until combined.
Add the shortening and the remaining flour, mixing until the dough forms into a mass.
Transfer the dough to a floured surface, and knead a few times.
Place the dough into a large greased bowl. Turn the dough to grease it all over. Cover with plastic wrap, and let the dough rise for 2 to 4 hours, or cover and refrigerate overnight.
Preheat the oven to 250 degrees F.
To Roll and Cut: Turn dough out onto a floured surface. Sprinkle a little flour on top, and gently shape the dough into a rectangle. Roll to 1/4-inch thickness. Using a pizza cutter or sharp knife, cut into 2 1/2-inch squares.
Pour oil into an electric skillet or Dutch oven until it is 3 inches deep, and heat to 360 degrees F. Fry dough, in batches, 2 to 3 minutes on each side or until golden brown. Drain on a wire rack sitting on top of paper towels. (To keep the finished beignets warm while you cook the rest, place them on a baking sheet, and slide them into the oven.)
Dust the beignets liberally with confectioner's sugar, or pour the confectioner's sugar into a paper bag, add a few beignets at a time, and shake to coat. Serve warm with a New Orleans-style café au lait (made with half black coffee and half scalded milk).
[ad name="space"]