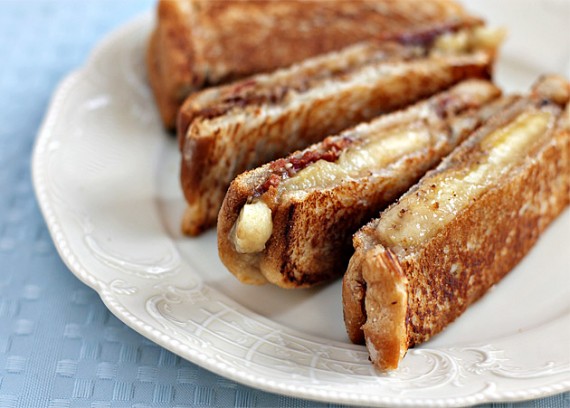 Most decent people have their Christmas decorations put away by now.
But Jeff and I had the Bubonic Plague from Christmas to New Year's Eve (aka Our Anniversary), so we've decided to keep the halls decked until Elvis' birthday, Jan. 8.
If your holidays went a little wonky, or you just want to keep the party going, please join us in having one final holiday blowout this weekend.
We'll bring the Elvis Paninis.
When I was a kid, Mama would make us fried peanut butter and banana sandwiches for Elvis' birthday, and we'd watch Elvis movies all day. It was like a holiday that only we knew about. So when I saw the Elvis Panini on the menu at The Patterson House, a swanky speakeasy-style bar here in Nashville, I had to try it. They've taken The King's classic PB & B, added a few slices of thick-cut bacon and grilled it, so when your sandwich arrives, it's toasted golden-brown and can barely contain the silkiness of the warm peanut butter, the salt and smoke of the bacon and the subtle sweetness of the banana.
It's a perfectly balanced orgy of deliciousness.
You can make my version, even without a panini press. Just use something to press your sandwiches while they cook – like a small pan, a plate with a can of soup on top, a foil-covered brick or even a spatula (with you pressing it down the entire time) – and then flip them over and repeat the process.
White cotton panties for everyone!
P.S. If you want to celebrate The King's birthday with something sweeter, try the Peanut Butter and Banana Cream Pie, Kentucky Butter Cake, or Chocolate-Peanut Butter Pie.
Elvis Panini

Inspired by the Elvis Panini served at The Patterson House (Nashville).

From Rebecca Crump

Makes 2 sandwiches

4 slices sourdough or French bread
2 tablespoons unsalted butter, room temperature
Peanut butter, to taste
4 slices thick-cut bacon, cooked
1 ripe banana, sliced

Place the bread on a baking sheet, and brush each slice with butter.
Flip the slices over, and spread them with peanut butter.
Arrange the bacon on half the bread slices.
 Divide the bananas evenly on top of the bacon, and cover with the remaining bread slices.
To Use a Panini Press: Preheat the panini press to medium-high heat, and grill the sandwiches until the bread is toasted, about 3 minutes.
To Use a Skillet: Heat a large cast-iron or non-stick skillet over medium heat. Place the sandwiches in the pan, and weigh them down with another pan or a plate with 2 cans of soup on top. Cook for 2 to 3 minutes, carefully flip the sandwiches, re-weight them, and cook for another 2 minutes.
[ad name="space"]