OK, Christmas morning. The presents have been opened. The stocking are unstuffed. The kids' joy is at its zenith. And now everyone is hungry and looking at YOU.
It's time for Christmas breakfast.
Here are some ideas from the EPC archives for breakfasts that are special but won't keep you stuck in the kitchen for long.
See the photo at the top of this post? That's Virginia Willis' Overnight French Toast Casserole. Sweet goodness. Buttery bread moistened with eggs, whole milk, vanilla, cinnamon and ginger and studded with chopped pecans. Make it during the commercial breaks as you watch "It's A Wonderful Life" on Christmas Eve. 
Christmas-Morning Muffins. One of my favorite recipes from last year. Fresh clementine juice. Dried cranberries. Chocolate chips. Fresh nutmeg. Easy and delicious.
Peppery Bacon and Cheddar Scones. Hold me.
These Maple-Pecan Oatmeal Scones always remind me of visiting my sister in Boston right after Christmas. We wallked through the snow to a little coffeehouse I'd never seen before that day. I think it was called "Starbucks."
Chai Waffles with Vanilla Whipped Cream. So, so, so good. Everything's better with chai.
Charleston Shrimp and Grits. Shrimp with bacon, onion and green bell pepper spooned over a bed of cheese grits. Use quick-cooking grits, and you'll have this in your belly in no time.
Everyone loves Monkey Bread. Just quarter some canned biscuits, dip them in butter, roll them in cinnamon sugar, and bake them in a bundt pan. It even LOOKS like a wreath. Perfect!
Does your family usually have biscuits on the table for Christmas breakfast? Try these Pecan Sour Cream Biscuits. They're sweetened with light brown sugar, so they're delicious with a pat of butter, jam or country ham.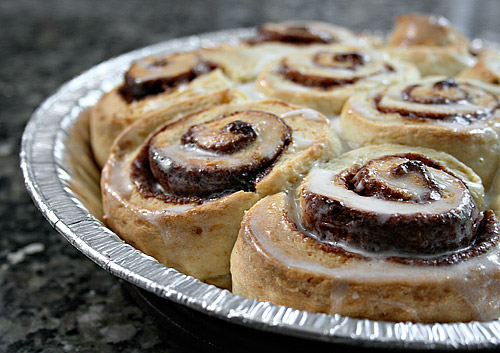 Quick Cinnamon Biscuits. Sweet goodness.
And, last but not least, Chai-Apple Pie Coffee Cake! Sweet. Spicy. Moist. Crumbly. The chai is baked into the cake and used to sauté the apples, so you can't miss it. I have a feeling that a big dollop of bourbon whipped cream wouldn't hurt this coffee cake one bit.
Now, give me some ideas! What do YOU make for Christmas breakfast?
[ad name="space"]