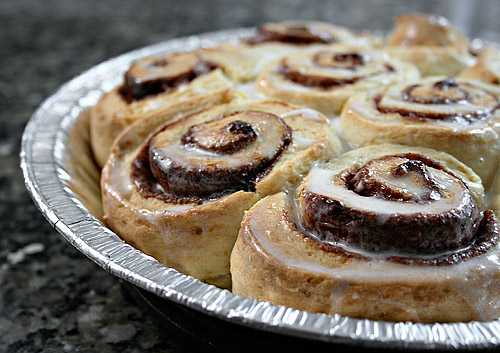 So, when I married Jeff, I vowed to make his favorite cinnamon rolls on a semi-regular basis.
That isn't always practical.
There are times when, strangely enough, he doesn't want to wait several hours for the dough to rise … and the rolls to rise … and the baking. Like when we're having a lazy Sunday breakfast or a late-night craving strikes during a marathon of "The Wire."
(Oh. In. Deed.)
That's when I break out The Great Compromise: these Quick Cinnamon Biscuits.
Sweet goodness.
There's no bringing ingredients to room temperature or even melting a little butter. You mix the dough by hand in one bowl, pat it into a rectangle, and roll the filling inside. Then slice the dough into rounds, place them in a baking dish, and bake them.
Since the biscuits are packed in tight, they stay soft and gooey inside, just like a cinnamon roll.
Ice, eat, repeat.
As vows go, promising to stick around in sickness and in health is one thing. But promising to stick around in sickness and in health with a lifetime of cinnamon rolls (and cinnamon roll-type treats) is way more fun.
Quick Cinnamon Biscuits

Adapted from The Moosewood Collective's "Moosewood Restaurant New Classics"

Yield: 9 biscuits

Cinnamon Sugar Filling:
1/4 cup brown sugar
2 teaspoons cinnamon
1 teaspoon nutmeg

Biscuit Dough:
2 1/2 cups unbleached white flour
2 tablespoons brown sugar, packed
2 teaspoons baking powder
1/2 teaspoon salt
1 1/2 cups plus 1 tablespoon heavy cream

Icing:
6 tablespoons confectioners' sugar
4 to 6 teaspoons milk or heavy cream

Preheat the oven to 400 degrees F.
For the Filling: In a small bowl, combine the brown sugar, cinnamon and nutmeg. Set aside.
For the Dough: In a large bowl, stir together the flour, brown sugar, baking powder and salt. Add 1 1/2 cups cream, and stir until the dough forms a ball, about 1 minute. With your hands, fold the dough over a few times in the bowl, until the dough is smooth
Turn the dough out onto a lightly floured surface. Lightly flour your hands, and pat the dough into a 1/2-inch-thick rectangle, about 9 X 13 inches. Brush the surface of the dough with the remaining tablespoon of cream. Sprinkle evenly with the cinnamon sugar topping.
Starting from the long side, roll the dough into a cylinder. Slice into 9 equal rounds. Place the rounds, cut side down, into an ungreased 8-inch square baking dish or a pie plate. Bake for about 30 minutes, until the biscuits are lightly browned.
For the Icing: While the biscuits bake, mix together the confectioners' sugar and milk or cream until smooth. When you remove the biscuits from the oven, immediately drizzle them with icing. Serve warm.
[ad name="space"]