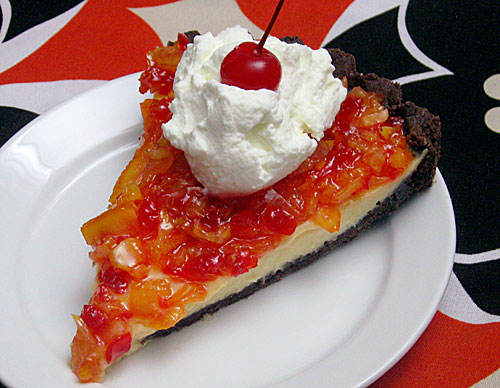 One of the winners of the first You Want Pies With That? challenge, Holly from PheMOMenon, chose this month's contest theme: pies as a fashion statement. And I breathed a sigh of relief, because if there's anything we know in this house, it's fashion, what with Henry the Wonderdog sauntering around in his plastic Elizabethan collar, Jeff going to work in a "Ghostbusters" T-shirt and me. The woman whose husband hid his Rocky T-shirt from her so she would would JUST STOP WEARING IT.
If anything could coax me into give up comfort for class, it's the 1960s-inspired costuming on Mad Men. As soon as I go through puberty, I'm going to start dressing like Joan Holloway.
So, in honor of Holly's fashion theme, here's my Mad Pucci Pie. The colors match my Pucci-inspired, geo-print shirt. The flavors are drawn from the cocktail Mad Men's main character, Don Draper, orders most: the Old-Fashioned. Bourbon, bitters, a sugar cube, an orange slice, a lemon slice and a Maraschino cherry. The filling is adapted from an eggnog tart recipe, with a dash of bitters replacing the vanilla. The garnishes are represented in the Candied-Orange, Lemon and Cherry Compote that can be served as an accompaniment. How Betty Draper is that?
Mad Pucci Pie

Crust from Dorie Greenspan's "Baking with Julia" and filling adapted from "Gourmet" (November 2004)

Crust:
1 1/4 cups all-purpose flour
1/4 cup unsweetened cocoa powder, preferably Dutch-processed
1/4 cup sugar
1/4 teaspoon salt
1 stick (4 ounces) cold, unsalted butter, cut into small pieces
1 large egg yolk
1 tablespoon ice water

Filling:

1 1/2 (8-oz) packages cream cheese, softened

2 tablespoons crème fraîche or heavy cream

1/2 cup plus 2 tablespoons sugar

2 whole large eggs

2 large egg yolks

3 tablespoons bourbon

1 dash bitters (or 1 teaspoon pure vanilla extract)


Scant 1/4 teaspoon salt

Accompaniments:
Whipped cream
Candied-Orange, Lemon and Cherry Compote (recipe follows)

To Make the Crust: Put the flour, cocoa, sugar, and salt in your food processor, and pulse to blend. Add butter, and pulse 8 to 10 times, until the pieces are about the size of small peas. With the machine running, add the yolk and ice water and process, in bursts, just until crumbly. Gather the dough together and shape it into a rough square. Pat it down to compress it slightly, and wrap it in plastic. Chill until firm, at least 30 minutes.
Line a jelly-roll pan with parchment paper; set aside. Spray the inside of a 10-inch tart shell.
Flour your work surface and the top of the dough, and roll it into a circle. Fit the dough into the tart pan, pressing it into the fluted edges and cutting the top level with the edges of the pan. Chill the dough for at least 20 minutes.
Preheat the oven to 350 degrees F.
Prick the bottom of the crust all over with the tines of a fork, and bake for 12 to 15 minutes, rotating the pan halfway through the baking time. Cool on a wire rack.
Reduce the oven temperature to 300 degrees F.
To Make the Filling: Blend cream cheese, crème fraîche, and sugar in cleaned food processor until creamy, about 1 minute.
Add whole eggs, yolks, bourbon, Bitters, and salt and process until smooth.
Pour cream cheese mixture into the tart shell.
Cover edge of tart shell with pie shield or foil, and bake until filling is set but still trembles slightly in center, 35 to 40 minutes (filling will set as it cools).
Cool tart completely in pan on a rack. Chill tart, uncovered, until cold, at least 2 hours.
Just before serving, remove sides of pan. Top with whipped cream and Candied-Orange, Lemon and Cherry Compote. Serve immediately.
Candied-Orange, Lemon and Cherry Compote

Adapted from "Gourmet" (November 2004)

3/4 cup water

3/4 cup sugar

1 large navel orange, quartered lengthwise and sliced crosswise paper thin (including peel)

1/4 lemon, sliced crosswise paper thin (including peel)

1/4 cup Maraschino cherries, thinly sliced

1 tablespoon Grand Marnier


Bring water and sugar to a boil in a 2-quart heavy saucepan over moderate heat, stirring until sugar is dissolved.
Add orange and lemon. Gently simmer over moderately low heat, uncovered, stirring occasionally, until peels begins to turn translucent and syrup is reduced to about 2/3 cup, 25 to 35 minutes.
Transfer to a heatproof bowl and cool.
Stir in cherries and Grand Marnier and chill, covered, until cold, about 1 hour.
[ad name="space"]