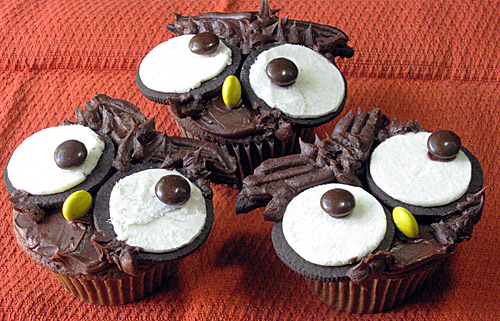 How are you decorating your cupcakes this Halloween?
I thought about all the usual suspects: skulls, eyeballs, ghosts, witches, werewolves and mummies. And then the answer became frighteningly obvious: owls. Because nothing sends a shiver down my spine like the sound of a "HoooOOOOooooot." Or the sight of that swivel-head. Bloodcurdling!
Then I found this owl design in "Hello, Cupcake!,"
and it's as easy as a witch in a broom shop. DANGEROUSLY close to Sandra Lee territory. But it's Halloween! Time to embrace the tacky!
Now, let's get our hoot on.
Owl Cupcakes

Adapted from Karen Tack and Alan Richardson's "Hello, Cupcake!"

12 chocolate cupcakes
1 can chocolate frosting
24 Oreos
Medium bag of M&M's

Separate the Oreos. (You might want to microwave them for a few seconds first.) Use a paring knife to remove any crumbs from the cream filling.
Using a serrated knife, make 2 parallel cuts 1/2 inch in from the edge on each plain cookie half. (The two outside edges will be used for the ears.)
Spoon 1 cup of chocolate frosting into a Ziploc bag, press out any excess air and set aside. Spread the remaining frosting on the cupcakes.
Using a little frosting, attach 2 of the large ear pieces, rounded sides in and about 1 1/2 inches apart, on top of each of the cupcakes. Angle the ears slightly away from each other, and allow them to extend about 3/4 inch beyond the edge of the cupcake.
Place two cream-sided cookie halves, cream side up, on the upper half of each cupcake to make the eyes.
Snip an 1/8-inch corner from the bag with the chocolate frosting. Pipe lines of frosting along the length of the cookie ears to cover. Starting with the edge at the top of the cupcake, pipe the feathers with the frosting using a squeeze-and-pull motion. Work inward from the edge in slightly overlapping rows until the section above the eyes is covered. Pipe a few feathers on the edge just below each eye.
Press a yellow M&M in the middle of each cupcake to make the beak. Use a dot of frosting on the cream of each cookie to attach a brown M&M to the eyes of the cupcakes.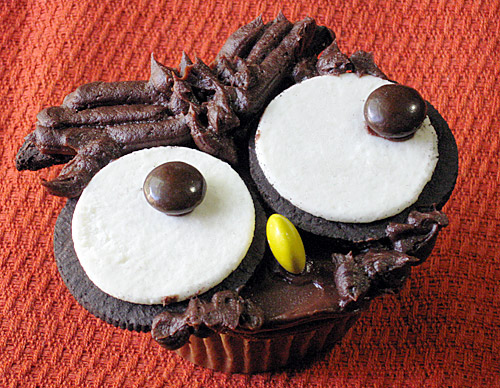 [ad name="space"]