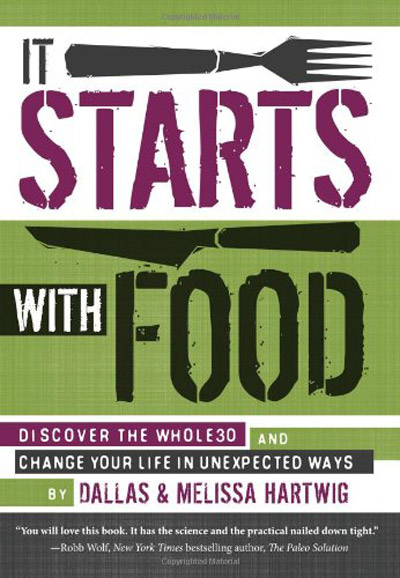 Week 7 Weigh-In: -0.5
Total Pounds Lost: 10.5
Oh, that sister of mine. Gorgeous, Harvard-educated, AND she gets a stomach bug (from being snowed in the house with all four kids for a week) and loses 10 pounds. Some girls have all the luck.
Seriously, put her on your prayer list. And send Lysol.
I mentioned my hypothyroidism a few weeks ago, and several of you sent suggestions on ways to fight that – going gluten-free, sugar-free, dairy-free, etc. – so I did some research this week and fell down a Google rabbit hole of information about paleo and The Whole30, which is a 30-day elimination diet that's supposed to "push the 'reset' button with your metabolism."
If you've had experience with either, I'd love to hear about it.
Right now, I'm reading Dallas and Melissa Hartwig's It Starts With Food
 (about The Whole30)
and Liz Wolfe's Eat the Yolks
. Not as exciting as A Game of Thrones
, but if something out there will tase my comatose metabolism, I'm all in.
What Worked Last Week:
Keeping a food journal. I still hate it, but it's working.
Baby Steps for This Week:
Schedule a Whole30. It'll take some prep. A lot of prep. And massive amounts of vegetables.
Work up to 10,000 steps a day.
OK, tell me: have you tried paleo and/or a Whole30? What's been working for you?