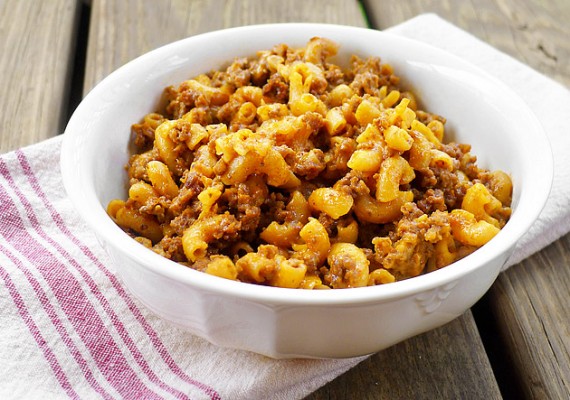 By Jennifer Rather.
I am a practitioner of the medieval arts of housewifery. I enjoy many aspects of the life, like the cooking and gardening, and despise others, like cleaning the kitchen every 30 minutes. It's much like any other job, where certain parts are mind-rousing and others are mind-numbing.
The major difference is the paycheck. Instead of making one, I get to see how far I can stretch one.
One of my major Momma Mantras is "homemade food, not packaged." Maybe it's my inner control freak, but I feel better knowing what all the children are eating. So, when my sons requested Hamburger Helper for dinner one night, I balked. The only "Helper" I want in my kitchen is someone who can make sure the baby doesn't eat the computer cables long enough for me to make dinner.
But the boys felt deprived. So, I made it my mission to recreate the boxed food, with real ingredients, and I found out it's just as fast as using the mix.
My No-Helper Cheeseburger Macaroni has all four major male food groups: meaty, cheesy, heavy and ketchup.
First, I brown my ground beef and onion. Then I stir in the flavorings – beef broth, mustard, ketchup, garlic powder and salt – and add the whole wheat macaroni to the same skillet, letting it simmer just until it's tender. When the pasta's ready, I sprinkle a few handfuls of grated Cheddar on top, stir it until it's melted and serve it up.
The boys have proclaimed it "better than the box," so now I can once again wear my Housewife Sash of Honor.
Maybe I can talk them into cleaning up the kitchen.
No-Helper Cheeseburger Macaroni

From Jennifer Rather (Ezra Pound Cake)

Serves 6

1 pound ground beef
1 medium onion, chopped
2 1/2 cups beef broth
2 teaspoons mustard
3/4 cup ketchup
1 teaspoon garlic powder
1/2 teaspoon salt
1 1/2 cups elbow macaroni (I use whole wheat, and no one knows.)
1 cup (4 ounces) Cheddar cheese, grated

In a large skillet over medium-high heat, brown the beef and onions, breaking apart the meat as you go. Drain off grease, and return pan to heat. (I like to cook the meat a little longer to get those nice burned bits of meat and onion.)
Combine the beef broth, mustard, ketchup, garlic and salt. Add to meat.
Bring the meat mixture to a boil, and add macaroni.
Reduce the heat to medium, and cover. Continue cooking for 10 to 12 minutes, until the pasta is tender.
When the macaroni is done, sprinkle cheese on top. Stir until melted, about 1 minute, and serve immediately.

Nutritional Information (Per Serving) – calories: 401, fat: 22g, carbs: 25g, fiber: 1g, protein: 23g, PP+ = 9
[ad name="space"]