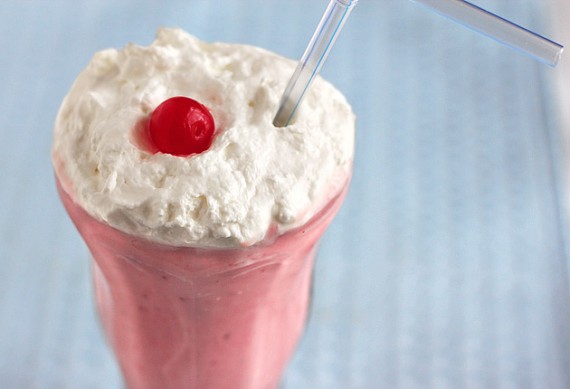 Welcome to Mad Men Week! Every day this week, I'm celebrating the March 25 return of "Mad Men" with a recipe inspired by the show. Today's Stupendous Strawberry Shake was inspired by the scene where Sally Draper (Kiernan Shipka) spills her shake, and Megan Calvet (Jessica Paré) is totally cool about it, thereby winning the heart of one Don Draper (Jon Hamm). Who knew?

Everyone knows how to make a strawberry milkshake, right? Toss some strawberry ice cream, milk and fresh strawberries into a blender, and blend.
That's how I would have made a strawberry shake before Adam Ried's "Thoroughly Modern Milkshakes,"
but, you guys, his Stupendous Strawberry Shake makes other strawberry milkshakes just taste … pink.
What makes his shake so different?
Instead of stopping with the classic strawberry ice cream and milk combination, he adds strawberry sorbet, a spoonful of strawberry jam and a squeeze of lemon juice to the mix.
The strawberry sorbet is the real game-changer. It brings an intense strawberry flavor to the milkshake that cuts through all the milk and cream. Pair it with the jam and lemon juice, and you couldn't miss the strawberry flavor if you were blindfolded and had a head cold.
It's like slurping a strawberry field through a straw.
This recipe makes two shakes, so share it with someone worthy. Or, just hide it in the back of the freezer, behind that bag of peas. I'll never tell.
P.S. Mad Men Week isn't officially affiliated with AMC or "Mad Men." It's something we do for fun.
Even More "Mad Men":
Rum French Toast with Maple-Rum Syrup
"Big Texas Belt Buckle" T-Bone Steak
"Mad Men" Premiere Menu (2009)
Stupendous Strawberry Shake


Adapted from Adam Ried's "Thoroughly Modern Milkshakes"

Makes 2 shakes

4 scoops strawberry ice cream
4 scoops strawberry sorbet
1/2 cup cold milk (whole or low-fat)
2 tablespoons strawberry jam or preserves
1 teaspoon freshly squeezed lemon juice

Take the ice cream and sorbet out of the freezer, and leave them out on the counter for about 15 minutes, until they've softened.
Blend the milk, jam, and lemon juice for about 15 seconds.
Add the ice cream and sorbet, and pulse a few times, stirring with a spatula as necessary.
Blend until smooth, 30 to 60 seconds. Pour into chilled glasses, and start slurping.
[ad name="space"]