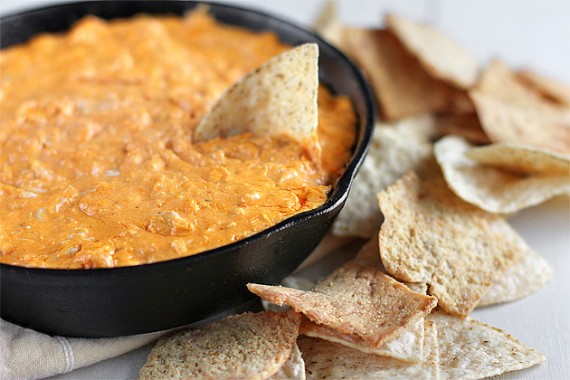 This Buffalo Chicken Dip? Pure man-bait.
Walk into a room with it, and guys will look at you like you just took your top off.
It's just the thing to take to a Super Bowl party.
But I've seen ladies who wouldn't touch a Buffalo wing attack this stuff like starving lions chasing an antelope on Mutual of Omaha's Wild Kingdom.
I totally understand.
I'm not a big fan of Buffalo wings – something about that mountain of wittle bones gives me the cweeps – but this dip is different. It comes out of the oven all melted and gooey, with little streams of hot sauce on top. It's so thick, it'll cling to your chip without dripping, and every bite sings with Frank's hot sauce, blue cheese and lots of shredded chicken.
Damn, it's good.
I always tell myself I'm just going to taste it before a party, but one chip turns into three and then a handful.
It's warm. It's creamy. It's cheesy. And you can make it fast.
Just shred a couple of cooked chicken breasts, and mix them with melted cream cheese, blue cheese dressing and Frank's hot sauce. Then spoon the mixture into a small casserole dish or pie plate, sprinkle cheese on top, and bake it for about 20 minutes, until the cheese gets bubbly.
You can make it with low-fat ingredients. You can trade the blue cheese dressing for ranch. You can cook it in a small crockpot instead of baking it in the oven.
And you can eat it without having to stare at a plate of wittle bones. Total score.
Buffalo Chicken Dip

To lighten up this recipe, substitute light blue cheese dressing and light cheese for the full-fat versions.

Rebecca Crump (EzraPoundCake.com)


Makes 4 cups

8 ounces light cream cheese
1/2 cup blue cheese dressing
1/2 cup Frank's hot sauce
2 cooked chicken breasts, shredded (rotisserie, grilled, or poached)
1/2 cup your choice of cheese (blue cheese, mozzarella, Cheddar, or Monterey Jack), crumbled or shredded, divided

Preheat the oven to 350 degrees F.
In a saucepan over low to medium heat, melt the cream cheese, and stir until smooth. Add blue cheese dressing and Frank's hot sauce.
Stir in chicken until well combined.
Transfer the mixture to a small casserole dish, pie plate, or cast-iron skillet.
Sprinkle with 1/2 cup cheese.
Bake until the cheese is melted and bubbly, about 20 minutes. Serve with chips, crackers, or celery sticks.

Slow Cooker Directions: Combine the ingredients as directed above. Transfer the mixture to a small slow cooker, sprinkle 1/2 cup cheese on top, and heat on Low until warm and bubbly.

Gluten-Free Tip: Make sure to use GF blue cheese dressing.

Nutritional Info (per 2 tablespoon serving) – calories: 49.7, fat: 4.2g, carbs: 0.9g, fiber: 0, protein: 2.2g, PP+ = 1