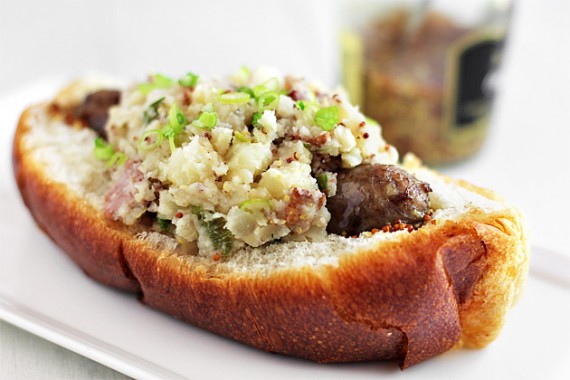 If you're very, very quiet, you can hear the soft "boop boop boop" of boxes of Velveeta and cans of Ro-Tel being scanned in grocery stores across the nation today. And that can only mean one thing.
Break out the bobbleheads.
Find Hank Williams Jr.
It's Tailgating Time.
I don't know a blitz from a bump-and-run, but I get excited about football season, because that means good times and tailgating food. Chips and dips. Nachos. Grilled meat on sticks. Chili. Dogs. Chili dogs. Cheesy things. Fried things. Sandwiches that make you wish you had a second belly and a retractable jaw.
Since the NFL season starts tonight with the Saints and the Packers in Wisconsin, we're kicking off the tailgating with a little Green Bay soul food: Grilled Beer Brats with German Potato Salad.
I love that the bratwursts are poached in beer to give them an extra layer of flavor. Perfect with spicy mustard on a hard roll. And still mighty fine on a hot dog bun, even if that drives die-hard brat aficionados berserk. I like to top mine with a small scoop of German potato salad. Bacon and onions suspended in warm smashed potatoes with a few spoonfuls of whole grain mustard and apple cider vinegar for a sour kick. (Really, if you're not used to German potato salad, it can get pretty punchy, so add a small amount of vinegar, taste, get a second opinion, and go from there.)
It's like Oktoberfest on a plate.
Game on!
(P.S. Die-hard Saints fans, we've got you covered with this Grilled Shrimp Po' Boy with Spicy Remoulade. Who Dat?!)
Grilled Bratwurst with German Potato Salad

Adapted from Emeril Lagasse (via Food Network)

Makes 4 to 6 servings

Brats:

4 beers, 12 ounces each
1 1/2 pounds Bratwurst links (2 to 3-ounce links)
Vegetable oil, for brushing brats
Brat rolls, brown bread or hot dog buns
Crock of whole grain mustard

Potato Salad:

2 pounds baking potatoes, peeled and diced
Salt
6 ounces raw bacon, chopped
1 cup chopped onions
Freshly ground black pepper
Up to 1/4 cup apple cider vinegar (add a small amount at a time, and taste)
1/4 cup whole grain mustard
4 hard-boiled eggs, sliced (optional)
1/4 cup chopped green onions

In a saucepan, over medium heat, bring the beer up to a simmer. Add the brats, and cook until plump, about 6 minutes. Set aside.
Preheat the grill.
For the Potato Salad: Place the potatoes in a second saucepan, and cover them with salted water by 2 inches. Place the saucepan over medium heat, and simmer the potatoes until tender, about 15 minutes. Drain well, and return to the saucepan to keep warm.
In the meantime, grab a skillet and cook the bacon until crispy over medium heat. Add the onions, and season with pepper. Saute for 1 minute. Remove from the heat. Set aside.
Transfer the potatoes and the bacon mixture (including the fat) to a large mixing bowl. Add vinegar (to taste), mustard, eggs and green onions. Season with salt and pepper. Mix well. Using the back of a spoon, mash the mixture together.
Lightly brush the sausages with oil. Place on the grill, and cook for a few minutes on each side.
Remove the sausages from the grill, and serve with potato salad, rolls and mustard.
[ad name="space"]