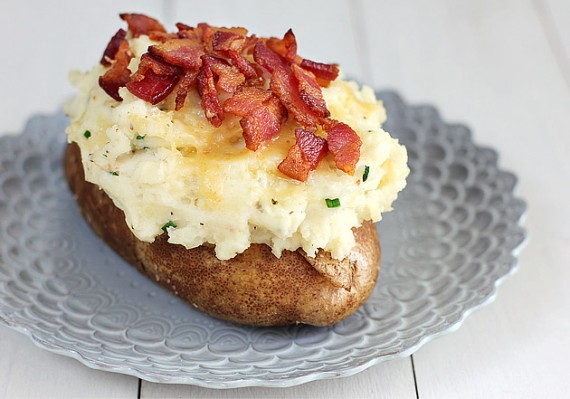 Most artists work in oil or marble. My mama works in tater.
Last weekend, Jeff and I helped my parents move many large pieces of furniture, mainly because Mama bribed us with the promise of her Loaded Baked Potatoes.
They come with all the fixings you'd expect: Cheddar cheese, sour cream, chives and – be still my heart – bacon. But she also has a secret. Before her potatoes go into the oven, she rubs each one with extra-virgin olive oil and pats on some Kosher salt. So, the skins gets crisp and have a nice salty bite. I've seen Jeff eat the filling and then fold the potato skin and eat it like a taco.
No flavor wasted.
This is definitely a taste-as-you-go recipe, so just use these measurements as a jumping-off point. Sometimes I mix our potato fillings in separate bowls, so I can prep mine with Things Jeff Won't Eat (i.e. mushrooms, spinach, red peppers, goat cheese).
Customization is a beautiful thing.
Loaded Baked Potatoes


From Rebecca Crump (Ezra Pound Cake)


4 large baking potatoes
Extra-virgin olive oil
Kosher salt
1/2 pound bacon, chopped (optional)
4 tablespoons unsalted butter
1/4 cup milk
1/4 cup sour cream
1 1/2 cups shredded Cheddar cheese, plus more for topping
2 tablespoons chopped chives (or 1 green onion, sliced)
Salt and pepper, to taste

Preheat oven to 400 degrees F.
Scrub the potatoes, rub them with olive oil, and pat on Kosher salt. Place potatoes on baking sheet, and bake for 1 hour. Set aside until cool enough to handle.
If You're Adding Bacon: In a sauté pan or cast-iron skillet over medium heat, fry the bacon until crispy, about 6 minutes. Drain on paper towels. Set aside.
Slice 1/4 of the top off of each potato. Using a spoon, scrape out most of the flesh of each potato into a medium-sized bowl.
Add butter, milk, sour cream and 1 cup cheese. Mash with a potato masher or a fork. Taste, and adjust the recipe to your taste, if necessary.
Fold in chives, and season with salt and pepper, to taste.
Spoon the filling back into the potatoes. Top with remaining cheese and the bacon, if using.
Bake again until the cheese melts, about 10 minutes. Dig in!
[ad name="space"]