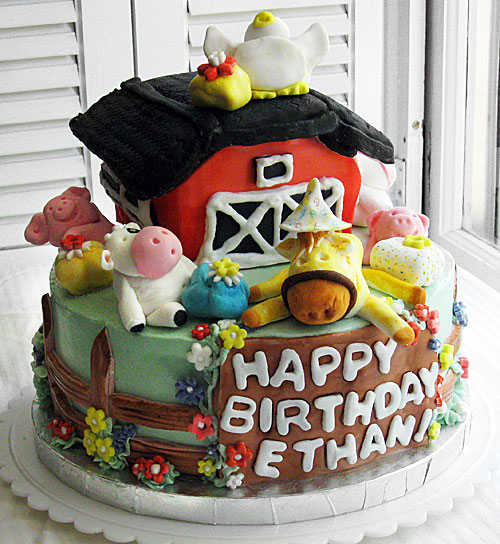 A few weeks ago, a friend e-mailed me about making a cake for her son's second birthday. She was planning a party with a farm theme, so we decided on a cake with a barn and some of Ethan's favorite farm animals: a horse, cows and pigs. She also wanted a fence running around the cake.
No problem.
Not that I'd ever sculpted farm animals.
But when you're excited about a project, it pays to say yes now and figure out how later.
First, I looked up barn and farm cakes on the magical Internet to see what other people had done and study their designs, color choices and styles. Then it was time for a little toy store research to see what's hip with the 2-year-old set these days. My two major inspirations for the look of the animals were Kylie Lambert's signature cows and the Fisher Price® Little People® Farm Animals.
Once the animals were finished, I needed a barn, so I carved the basic shape from a batch of Rice Krispies Treats@ and covered it in fondant. Then I attached some fondant-covered graham crackers to the top of the structure to serve as the roof. The barn's windows and doors were made of leftover black fondant trimmed in white royal icing.
The day before the party, I baked a white butter cake, filled it with vanilla buttercream and frosted it. Then I attached the fence, "Happy Birthday" sign and flowers – all made out of fondant – and added a few buttercream leaves and flower stems.
And when all of this was done, and I thought I was ready to call it a night, this thought popped into my head: wouldn't it be fun if it looked like the animals were going to Ethan's birthday party? So, I picked myself off the couch, tied the apron back on and started making party hats and presents out of gum paste. The presents are filled with miniature marshmallows to give them some structure.
The next morning, Jeff came with me to deliver the cake. He drove while I balanced fondant farm animals for 90 torturous minutes – up the interstate, around many winding roads and next to semis that were OMIGOD WAY TOO CLOSE to the cake. But we made it with the cake and our marriage intact. On the way back to the car, Jeff gave me a hug, a kiss and a fist bump. And I was smiling from ear to ear.
If an exciting opportunity comes your way, say yes now, and figure out how later. You'll force yourself to do things you never imagined. Like figuring out how to make marshmallow presents for fondant chickens at 11 p.m. I never saw that one coming, but I'm glad it did. Thanks, Joni!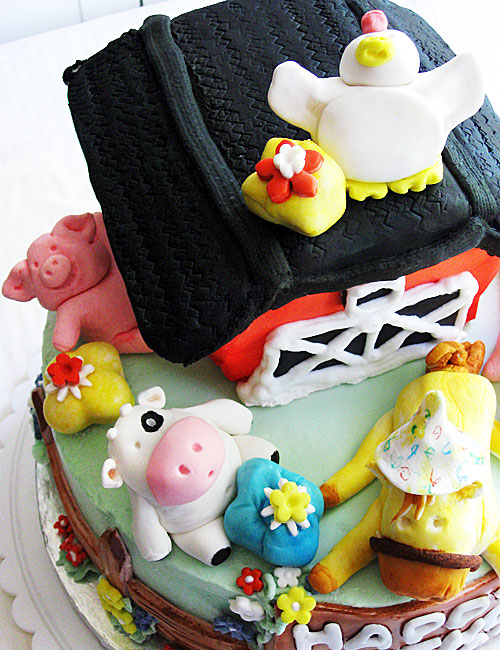 [ad name="space"]