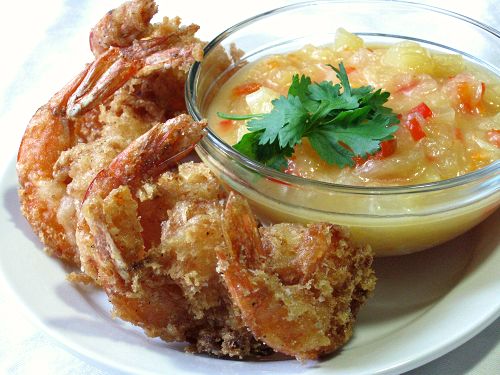 With Nashville hosting tonight's Monday Night Football game, we had to break out the big guns: Coconut Shrimp and Pineapple-Habanero Dip.
Doesn't that plate of shrimp look dainty? You'd never guess we snorted the rest straight off the paper towel. But the dip is the real star. The combination features pineapple, red bell pepper and a tablespoon of freshly minced habanero. It's the perfect amount of heat: enough to get the attention of most sane people without detracting from the flavor.
So, in this, the Season of Thanksgiving, I offer my humble thanks to the Tennessee Titans for bringing tailgate foods into my life. For yea, though I know not the meaning of the two-point conversion, I shall rejoice in the opportunity to enjoy the gifts of Ro-Tel and Velveeta, chili-smothered Fritos and Buffalo wings forever and ever. Amen.
Coconut Shrimp with Pineapple-Habanero Chutney


Adapted from Emeril Lagasse and Jessie Tirsch's "Emeril's New New Orleans Cooking"

Canola oil, for frying
2/3 cups all-purpose flour
1/2 cup cornstarch
1 large egg, beaten
1 cup shredded or flaked coconut
1 cup ice cold soda water
1/2 teaspoon salt
1 pound large shrimp, peeled and deveined, tail on
1 1/2 tablespoons seasoning mix (i.e. Cajun, Creole, Emeril's Essence)
Pineapple Habanero Chutney, recipe follows

In a heavy pot, heat 2 inches of oil over medium-high heat to 350 degrees F.
In a medium mixing bowl, combine the flour, cornstarch, egg and soda water. Mix well to make a smooth batter.
Measure the coconut into a shallow dish.
Season the shrimp with 1 tablespoon of seasoning mix.
Holding the tail of the shrimp, dip it in the batter, coating completely and shaking off the excess. Roll shrimp in coconut. Fry the shrimp in batches until golden brown, about 4 to 6 minutes.
Drain the shrimp on on paper towels. Season with the remaining 1/2 tablespoon of seasoning mix.
Pineapple-Habanero Chutney

1 tablespoon butter
1/2 cup chopped onions
Pinch salt
2 cups small diced pineapple
1/2 cup small diced red bell pepper
1 tablespoon minced habanero
1/2 cup white vinegar
1/4 cup sugar
1 1/2 teaspoons cornstarch
1 tablespoon water

Melt the butter in a saucepan over medium heat. Add the onions. Season with salt, and saute for 2 minutes.
Add the pineapple, red bell pepper and habanero. Continue to saute until the pineapple is soft, about 7 minutes, stirring frequently.
Add the vinegar and the sugar. Bring the mixture to a boil.
In a small bowl, combine the cornstarch and water, and whisk until smooth. Stir the slurry into the pineapple mixture and return mixture to a boil. Continue to cook for 4 minutes, stirring constantly. Remove from the heat.
For a smoother consistency, pour the chutney into a blender or food processor and blend.
[ad name="space"]