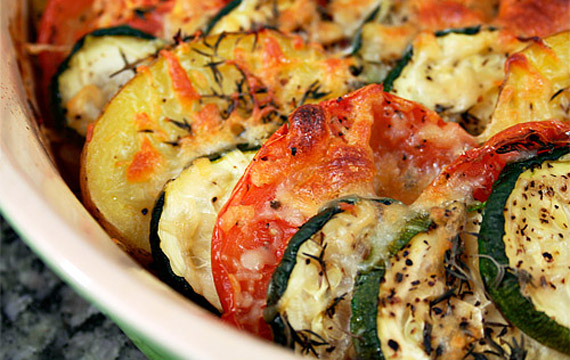 A few weeks ago, I was having lunch at Mom's with my nephews, Logan, 10, and Jack, 5. We were deep in discussion about exactly what it takes to get in trouble at school (talking during naptime) and what NOT to eat in the cafeteria (spaghetti) when Jack asked, "Who painted those?"
He was looking at the wall behind me, so I said, "You mean the painting of the people walking down the road?"
"No, the flowers. Who painted all those flowers?"
He was talking about the wallpaper.
Some things look more complicated than they are. Like wallpaper. And David Beckham. And this Vegetable Tian.
A tian is a French dish made by layering vegetables and baking them. It sounds a little boring, but I halved this recipe and ate all of it in two sittings. Straight from the oven. By myself. It didn't even make it from the dish onto a plate. Pure uncivilized gluttony.
You start by brushing a baking dish with olive oil, and then, while you've got the bottle in your hand, pour a few tablespoons of olive oil into a saute pan and cook the onions and garlic. Spoon that mixture into the bottom of your baking dish. Then slice your vegetables. I chose potatoes, tomatoes and zucchini, but you could use squash, red onion or really any vegetable than can be cut into 1/4-inch thick slices. Thick enough to get a little blistered and crispy on the top but stay soft on the bottom.
Do you need a mandoline to make this dish? No, you could slice the vegetables yourself just fine. However, my mother recently gave me a mandoline
(and a pair of cut-resistant gloves
), so I was looking for any excuse to use it. The first night I had it, Jeff cut an apple into paper-thin slices while I stood across the room refusing to make eye contact. Because I'm kind of klutzy, and I enjoy having fingertips. But after a few days of watching Jeff slice without injury, I bellied up to the blade, and I STILL have all of my fingers. And toes! Victory!
I know, some cooks aspire to creating slices that are not just the same thickness but the same overall size and and placing them in perfectly alternating patterns in perfectly straight rows. That's way too much "perfect" for me. I prefer to overlap the slices in one tight layer over the onion mixture, without worrying too much about rows or the size of the vegetables. The thickness of the slices matters for even cooking, but does it matter if you have a large tomato slice snuggled up against three small zucchini slices? Nah. You need that sort of perfect imperfection to keep things looking homemade. Rustic. Delightfully loosey-goosey.
There are a few final touches before the tian goes into the oven. A sprinkling of salt and pepper. A tablespoon of fresh thyme and a few thyme sprigs. A drizzle of olive oil. Then, halfway through baking, a big handful of cheese on top.
No doubt about it, the finished tian, with its browned bubbly cheese and gorgeous layer of summer vegetables, is a real showstopper. Provided it makes it out of the kitchen.
Need more ideas for meatless meals? Check out these links from some of my favorite blogs:
Vegetable Tian

Adapted from Ina Garten's "Barefoot in Paris"

Makes 4 to 6 servings

Good olive oil
2 large yellow onions, cut in half and sliced
2 garlic cloves, minced
1 pound medium round potatoes, unpeeled
3/4 pound zucchini
1 1/4 pounds medium tomatoes
1 teaspoon kosher salt
1/2 teaspoon freshly ground black pepper
1 tablespoon fresh thyme leaves, plus extra sprigs
2 ounces Gruyere cheese, grated

Preheat the oven to 375 degrees F. Brush a 9 by 13 by 2-inch baking dish with olive oil.
In a medium saute pan, heat 2 tablespoons of olive oil and cook the onions over medium-low heat for 8 to 10 minutes, until translucent. Add the garlic and cook for another minute. Spread the onion mixture on the bottom of the baking dish.
Slice the potatoes, zucchini, and tomatoes in 1/4-inch thick slices. Layer them alternately in the dish on top of the onions, fitting them tightly, making only 1 layer. Sprinkle with salt, pepper, thyme leaves, and thyme sprigs and drizzle with 1 more tablespoon of olive oil.
Cover the dish with aluminum foil, and bake for 35 to 40 minutes, until the potatoes are tender.
Uncover the dish, remove the thyme sprigs, sprinkle the cheese on top, and bake for another 30 minutes until browned. Serve warm.
[ad name="space"]