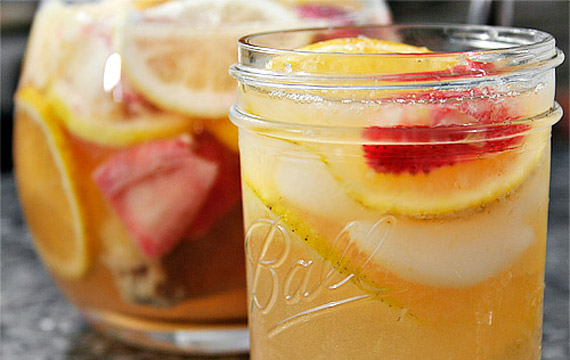 OK, I just paid our electricity bill – the First Official Electricity Bill of Summer 2010 – and I'm declaring an early Happy Hour.
OF COURSE, we could turn off the air conditioning and save money! But do you know what would be at stake? My marriage, the lives of everyone around me and possibly the ozone layer. So, it's money well spent. I just need a little something-something to take the edge off.
Here's my glass, I mean jar, of white sangria. White Zinfandel, peach schnapps, orange liqueur, club soda and fresh fruit poured over ice. For the fruit, I used what was handy – orange slices, lemon slices, peaches and strawberries – but you could toss in some blackberries, pineapple chunks, sliced pears, chopped green apple, grapes or mango,  as long as you have something citrusy in the pitcher. Something that tastes like sunshine but doesn't feel like it. Because feeling the sunshine leads to sweating. Some people think sweat is sexy, but you know what's really sexy? NOT STINKING.
Just bill me.
White Zinfandel Sangria


Adapted from "Bon Appetit"(July 2001)

Feel free to use whatever fresh fruit you have on hand – strawberries, pineapple, mangoes, blackberries, chopped green apple, etc. – as long as you include at least one citrus fruit.


1 750-ml bottle of chilled White Zinfandel
1/2 cup peach schnapps
2 tablespoons Cointreau, Grand Marnier or other orange liqueur
2 tablespoons sugar, or to taste
2 cinnamon sticks, broken in half
1 lemon, sliced
1 orange, sliced
1 peach, sliced into wedges
1 10-ounce bottle of chilled club soda
Ice cubes

Mix first 8 ingredients in tall pitcher. Refrigerate at least 30 minutes to allow flavors to blend.
Mix in club soda.
Fill 6 wineglasses with ice cubes. Pour sangria over ice and serve.
[ad name="space"]