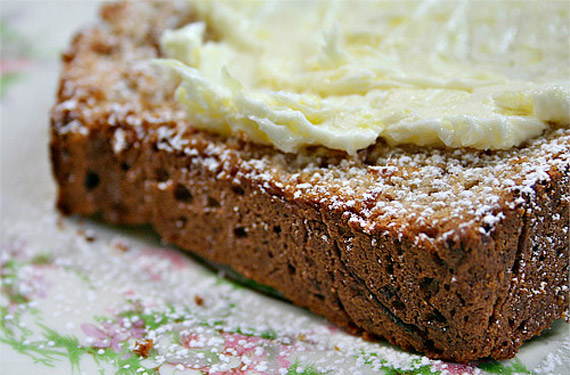 When I was a kid, I read so many books that I'd have to write down the characters' names on an index card and use the card as my bookmark, so I wouldn't get mixed up as I went from book to book. I loved spending hours getting lost in a story, not moving a muscle except to turn the pages until Mom called me to dinner.
I loved reading books until I started chasing a master's degree in English. By the time I claimed my diploma, I didn't want to read another thing. Not a book, not a magazine, not the back of a cereal box. And my mother's a librarian. FOR SHAME!
This summer, I'm determined to reclaim that Inner Bookworm and read something good. Enjoy the process, even. And I've already got a head start.
Yesterday, I grabbed my newly-purchased copy of Molly Wizenberg's "A Homemade Life,"
a blanket and a slice of Coconut Bread with Pineapple Butter and set up shop in the front yard while Henry the Wonderdog rolled around and slept in the grass. It was spectacularly lazy and relaxing, and the only reason I closed the book and came inside was that I was down to the last few chapters and not ready for it to end.
What about you? Do you have a stack of books you're planning to read this summer? Have you read something good lately?
Please, promote literacy and send me some suggestions!
Coconut Bread with Pineapple Butter

Adapted from Tyler Florence (via TylerFlorence.com)

Serves 8-12

1/2 cup (1 stick) unsalted butter, melted, plus more for greasing the pan
3 cups all-purpose flour
1 tablespoon baking powder
1 teaspoon salt
1 teaspoon ground cinnamon
1 cup brown sugar, packed
2 eggs, lightly beaten
1 teaspoon vanilla extract
Zest of 1 lemon, finely grated
1 1/2 cups unsweetened coconut milk
1 1/2 cups shredded coconut, toasted
Confectioners' sugar, for dusting

Pineapple Butter:
1 (8-ounce) can crushed pineapple, drained
1 cup (2 sticks) unsalted butter, softened

Preheat the oven to 375 degrees F. Grease the bottom and sides of a 9×5-inch loaf pan with butter.
In a large bowl, mix the flour with the baking powder, salt, and cinnamon.
In another large bowl, whisk together the melted butter with the brown sugar, eggs, vanilla, and lemon zest. Pour in the coconut milk and whisk together.
Pour the wet ingredients into the dry ingredients, and fold everything together with a spatula until you have a smooth batter. Gently fold in the shredded coconut until evenly distributed.
Pour into the prepared loaf pan, and set it on a cookie sheet. Bake for 1 hour to 1 hour 15 minutes, or until a wooden toothpick comes out clean when inserted into the center of the bread. Rotate the pan periodically to ensure even browning.
Cool the bread in the pan for 20 minutes or so; then when cool enough to handle, remove the coconut bread to a cutting board and let it cool completely before slicing.
For the Pineapple Butter: Press the liquid out of the crushed pineapple using the back of a spoon. (If there is too much juice, the fruit will separate from the butter.) Place the pineapple and softened butter into a food processor, and pulse until well blended. Mound the butter in a small serving bowl.
Toast the slices of coconut bread, dust with confectioners' sugar, and serve with the creamy pineapple butter.

Note: To toast the coconut: Preheat the oven to 350 degrees F. Spread the coconut on a cookie sheet and bake for 15 minutes, stirring it periodically. Toasting will fluff up the coconut and increase its volume (as well as make it taste better).
[ad name="space"]