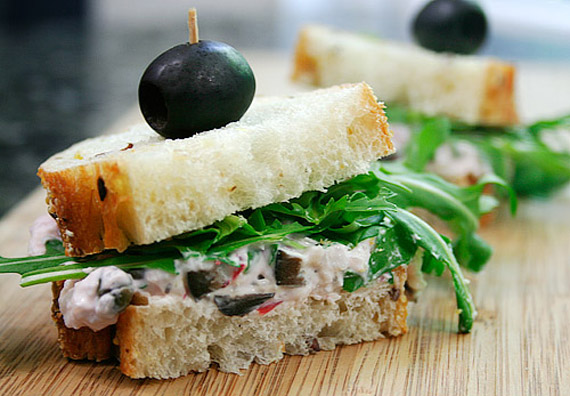 I've been in denial about summer. About it coming back. But yesterday, the temperature was around 90, and this morning, I saw Lifestyle Expert Colin Cowie on TV flanked by huge pitchers of sangria. So, resistance is futile. Especially to the sangria.
If you're like me, the less time spent in a hot summer kitchen, the better, but salads and sandwiches can get a little boring. This recipe was inspired by a sandwich I sampled at the Potlikker Film Festival last month. Two slices of thick, fresh bread stuffed with chopped radishes, arugula and capers. It was light but full of flavor, a vegetarian option that didn't seem like an afterthought.
It made an impression.
So, with the memory of this sandwich burning bright, I picked up some radishes, arugula and capers, along with a loaf of fresh Italian five-grain bread, and started experimenting. Since I didn't want my chopped radishes falling out with each bite, I combined them with a little Neufchatel cheese, a low-fat cream cheese, to make a radish spread. The radishes were still pretty pungent, so I added just enough lemon juice to make the mixture spreadable and tossed in some parsley, chives, capers and sliced black olives. Big flavors to balance the radish and round out the flavor of the spread.
My version is a little more substantial than the original, but I love being able to grab the radish filling straight out of the fridge, smear it across my bread in all of its chunky glory, add the arugula and dig in. It's got an irresistible creamy-crunchy thing going on. Just right for crackers, celery sticks or right off the tip of your finger.
It's almost summer. Time to get casual.
Creamy-Crunchy Radish Sandwiches with Capers, Black Olives and Arugula


From Rebecca Crump (EzraPoundCake.com)

To give this recipe a more "tea sandwich" feel, increase the Neufchatel cheese to 6 to 8 ounces. 


1 cup radishes, trimmed
1/2 cup (4 ounces) Neufchatel cheese (low-fat cream cheese)
Splash of lemon juice
1 tablespoon chopped parsley
1 tablespoon minced chives or scallions
1 1/2 tablespoons capers, rinsed
5 black olives, sliced or chopped
Salt and pepper, to taste
Your choice of bread
Arugula

Place the radishes in a food processor, and pulse until they are finely chopped.
In a small bowl, stir the cream cheese to loosen. Add the radishes, lemon juice (just enough to make the mixture spreadable), parsley and chives. Stir to combine. Gently fold in the capers and black olives. Season with salt and pepper.
Spread the radish filling on one slice of bread, top it with arugula, and sandwich with another slice of bread.
[ad name="space"]