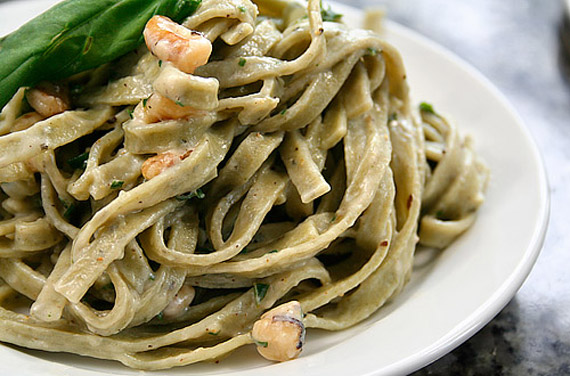 This is the sort of lunch you make between applying layers of primer to the Future Home Office of Champions. Something easy and light and…
What? The primer you use only takes one coat? Well, I'm betting the room you painted was a nice, normal color. Something that exists on the [ad name="break"]color wheel. Or in nature. Or at least on one of those paint sample cards at Home Depot. Our room had walls the color of radioactive Pepto paired with electric green built-in shelves. MY EYES! MY EYES!
Until a few days ago, our response to the room was to just OMIGOD CLOSE THE DOOR. The same response the parents had to Carol Anne's room in "Poltergeist." But then we started talking about how the Poltergeist Pepto Pink room would make a great home office, and when Jeff saw how many electrical outlets are in that room, it was ON.
The thing that had been holding us back was the priming. A job so intense that we briefly considered keeping the pink and green, going with a "30 Going On 13" theme and just hanging posters of Justin Bieber and The Jonai on those nuclear cotton candy walls.
But in the end, ugly always trumps lazy.
We bought primer. And brushes. And rollers. And blue tape. And plastic trays. And sanding blocks. And, dude. Maybe we should have gone with Justin Bieber.
Anyway, between layers two and three, I made this Fettuccine with Mascarpone, Toasted Walnuts and Basil. Make it once, and you won't need a recipe.
While your pasta is boiling, you put together the sauce by toasting the walnuts, setting them aside, and using the same warm skillet to melt a few tablespoons of butter. Then slide the walnuts back to the pan, and toss in some basil or parsley. Take this warm walnut mixture, and add it to the mascarpone you'll have measured into a large bowl to make your sauce. When the pasta's ready, toss it with this sauce, and dig in.
There are so many ways to change up the recipe. Combine the mascarpone with a bolder cheese, or add your favorite vegetables. Sautéed strips of red and yellow bell pepper would be nice. Sweet peas. Asparagus. Cherry tomatoes.  Trade the plain fettuccine for a flavored one, like lemon-pepper or spinach-chives. Play around with your herbs.
And then put on your party pants, and come over! I've got a roller here with your name on it.
I'm looking at YOU, Biebs!
Fettuccine with Mascarpone, Toasted Walnuts and Basil

Adapted from Jack Bishop's "The Complete Italian Vegetarian Cookbook"

Serves 4

If the sauce is too mild for you, feel free to add a few ounces of Parmesan, goat cheese, Gorgonzola or your cheese of choice.

1 pound fettuccine
1/2 cup chopped walnuts
3 tablespoons unsalted butter
2 tablespoons chopped fresh basil or parsley
1/2 cup mascarpone cheese
Salt and freshly ground pepper

Cook pasta according to directions on package.
Meanwhile, place walnuts in a skillet over medium heat. Toast until fragrant, about 5 minutes, shaking the pan occasionally to turn the nuts. Transfer to a plate.
Melt butter in skillet. Add nuts and basil or parsley, and cook just until heated through. Place the mascarpone in a large bowl, stir in the walnut mixture, and season with salt and pepper.
When the pasta is ready, drain it, reserving 1/4 cup of the cooking liquid.
Toss the fettuccine, still dripping with cooking water, with the walnut sauce. Add as much reserved cooking liquid as needed to thin the sauce. Serve immediately.
[ad name="space"]