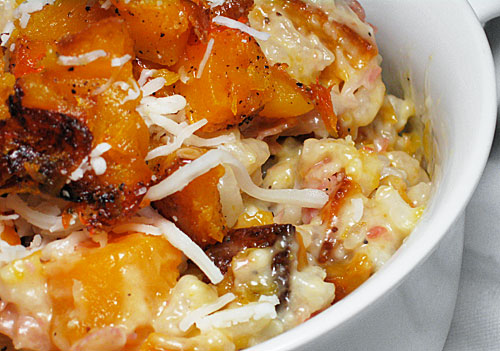 I can't believe I halved this recipe.
Jeff was working late. I was about to watch the presidential debate. And Barefoot Contessa recipes usually make enough to fill a trough. What did I need with a trough of Butternut Squash Risotto?
I NEED a trough of Butternut Squash Risotto.
First, there are the sweet, peppery cubes of roasted butternut squash. Delicious on their own. But then you start simmering a little pot of chicken stock and sautéeing the pancetta and minced shallots in melted butter, and the smells mingling in the kitchen are nothing short of intoxicating. After about 10 minutes, you add the Arborio rice and a little champagne. (The recipe calls for dry white wine, but we are rich in champagne – one of the many benefits of getting married on New Year's Eve.) And then you ask yourself, "What would Ina do?," and pour yourself a glass.
So, what makes risotto different from other rice dishes? It requires a short, roundish, high-starch rice – like Arborio – that can absorb its cooking liquid. When the rice seems to be getting dry, you add another cup of chicken stock and stir, repeating the process until the rice is cooked through. The starch from the rice eventually thickens the surrounding liquid, making it rich and creamy.
When the risotto is ready, take the pot off the heat, and stir in the squash and freshly grated Parmesan. I spooned some into a small bowl and sat down to watch the debate. Then I tasted it, walked back into the kitchen and filled a bowl the size of my head. Which is to say, large.
The debate didn't offer anything new, but the flavors of this Barefoot Bloggers pick definitely get my vote.
Butternut Squash Risotto

From Ina Garten's "Barefoot Contessa Family Style"

Yield: 4 to 6 servings

1 butternut squash (2 pounds)

2 tablespoons olive oil

Kosher salt and freshly ground black pepper

6 cups chicken stock*

6 tablespoons (3/4 stick) unsalted butter

2 ounces pancetta, diced

1/2 cup minced shallots (2 large)

1 1/2 cups Arborio rice (10 ounces)

1/2 cup dry white wine

1 teaspoon saffron threads (optional)

1 cup freshly grated Parmesan

Preheat the oven to 400 degrees F.

Peel the butternut squash, remove the seeds, and cut it into 3/4-inch cubes. (You should have about 6 cups.) Place the squash on a sheet pan and toss it with the olive oil, 1 teaspoon salt, and 1/2 teaspoon pepper. Roast for 25 to 30 minutes, tossing once, until very tender. Set aside.

Meanwhile, heat the chicken stock in a small covered saucepan. Leave it on low heat to simmer.
In a heavy-bottomed pot or Dutch oven, melt the butter and saute the pancetta and shallots on medium-low heat for 10 minutes, until the shallots are translucent but not browned.
Add the rice, and stir to coat the grains with butter.
Add the wine and cook for 2 minutes.
Add 2 full ladles of stock to the rice plus the saffron, 1 teaspoon salt, and 1/2 teaspoon pepper. Stir, and simmer until the stock is absorbed, 5 to 10 minutes. Continue to add the stock, 2 ladles at a time, stirring every few minutes. Each time, cook until the mixture seems a little dry, then add more stock. Continue until the rice is cooked through, but still al dente, about 30 minutes total.
Off the heat, add the roasted squash cubes and Parmesan. Mix well and serve.

*Gluten-Free Tip: Make sure to use GF chicken stock.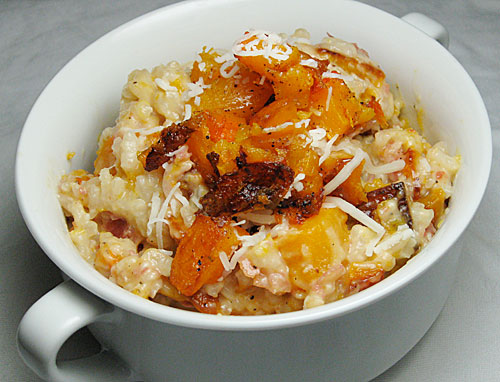 [ad name="space"]