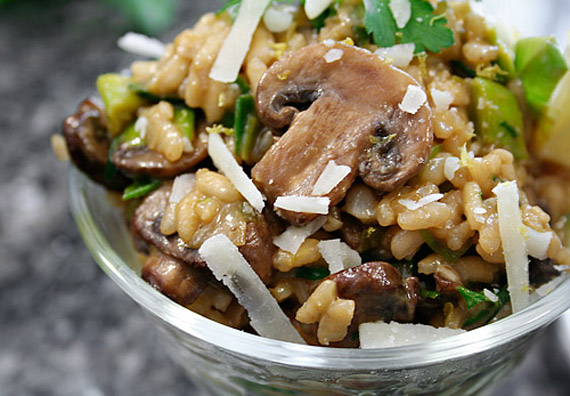 Hello, you magnificent example of humanity!
Did you have a spectacular New Year's? Join the Polar Bear Club? Make any resolutions?
I know, lots of people don't "believe" in resolutions. But what if – instead of swearing to lose this and quit that and organize everything – what if we resolve to do something fun?
We could plan our own film festivals.
Master the chopsticks.
Learn how to mix a monthly cocktail (or bake a pie).
Take a weekly self-portrait.
Fill a piñata with strange and wonderful things, and give it to a friend.
Spring for concert tickets.
Plan a road trip.
Check out a new restaurant once a month.
Go skinny-dipping.
Keep the party going until everyone gets hungry for breakfast.
Make out at the drive-in.
Open an Etsy shop.
Surprise the kids with our own killah Nerf guns, and show no mercy.
Start planning our "Jersey Shore" Halloween costumes.
Figure out what to do with agave nectar.
You get the idea.
You're perfect the way you are, so resolve to do something that actually gets you excited about the big, juicy year ahead.
Oh, and learn how to make risotto. It scares people, but all it requires is a little patience. Think of adding each ladleful of vegetable stock to the risotto the same way you would add juice to a toddler's sippy-cup. Wait until the rice has almost absorbed each small amount of stock before you add more to the pot, and keep stirring. Gently.
And don't stop until your name's on a blimp! Go, 2010!
Mushroom, Leek and Lemon Risotto

Adapted from Linda Fraser's "The Vegetarian Kitchen"

Serves 4

5 cups vegetable stock
8 ounces trimmed leeks
8 ounces (2-3 cups) mushrooms
2 tablespoons olive oil
3 garlic cloves, crushed
6 tablespoons butter
1 large onion, roughly chopped
12 ounces (1 3/4 cups) risotto rice
Zest of 1 lemon
3 tablespoons lemon juice
2 ounces (2/3 cup) freshly grated Parmesan
4 tablespoons mixed chopped fresh chives and flat-leaf parsley
Salt and freshly ground pepper
Garnishes: lemon wedges and parsley

Pour the vegetable stock into a small saucepan over medium-high heat. Bring it to a simmer.
Meanwhile, wash the leeks. Slice them in half lengthwise, and chop them roughly. Chop the mushroom. Set aside.
Heat the oil in a large saucepan over medium heat. Add the garlic, and cook for 1 minute. Add leeks, mushrooms, salt and pepper; cook for about 10 minutes, or until softened and browned. Transfer the vegetables to a plate or bowl.
Return the saucepan to medium heat, and add 1 ounce of butter. As soon as it melts, add the onion and cook for 5 minutes, until soft and golden.
Stir in the rice, and cook for about 1 minute, until the grains begin to look translucent and are covered in butter. Add a ladleful of stock to the pan, and cook gently, stirring occasionally, until the liquid has been absorbed.
Continue to add stock, a ladleful at a time, until all the stock has been absorbed. This should take about 25-30 minutes. The risotto will turn thick and creamy, and the rice should be tender but not sticky.
Just before serving, stir in the leeks, mushrooms, remaining butter, lemon zest and juice. Add half the grated Parmesan and herbs. Adjust the seasoning and serve, sprinkled with the remaining Parmesan and herbs. Garnish with lemon wedges and parsley.
[ad name="space"]