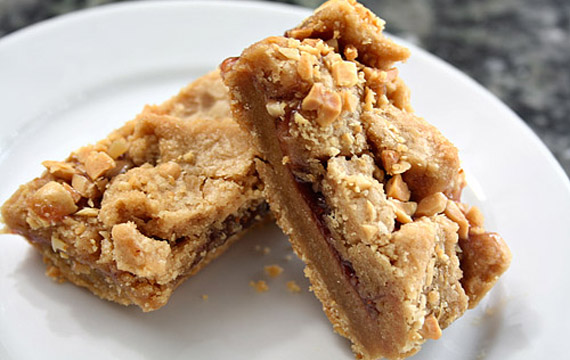 When I made these bars during the Barefoot Bloggers' "Week of the Contessa," I wasn't sold on them. Then I realized that, like the mogwai in "Gremlins," Ina Garten's crank-it-to-11 Peanut Butter and Jelly Bars have rules:
1. Never eat them straight from the oven. They smell like peanut butter cookies, but hot jelly is a bad experience. The bars are much, much better cold. Straight from the fridge, even.
2. Pick a jelly with some bite, like raspberry, grape or blackberry. The peanut butter portion of these bars is stick-to-the-roof-of-your-mouth rich, so you want something that can stand up to that. Hint: not strawberry.
3. Always have a glass of milk nearby. Preferably large and ice cold. Maybe two.
These bars completely lack in subtlety. They couldn't find it with Google Maps, GPS and a compass. But what they deliver is a full-tilt, no-holds-barred, peanut butter and jelly experience. If that's your kind of thing, you've met your match.
Peanut Butter and Jelly Bars

From Ina Garten ("The Barefoot Contessa," Food Network)

Makes 24 bars

1/2 pound (2 sticks) unsalted butter, room temperature
1 1/2 cups sugar
1 teaspoon pure vanilla extract
2 extra-large eggs, at room temperature
2 cups (18 ounces) creamy peanut butter
3 cups all-purpose flour
1 teaspoon baking powder
1 1/2 teaspoons kosher salt
1 1/2 cups (18 ounces) raspberry jam or other jam
2/3 cups salted peanuts, coarsely chopped

Preheat the oven to 350 degrees F. Grease a 9-by-13-by-2-inch pan. Line it with parchment paper, then grease and flour the pan.
In the bowl of an electric mixer fitted with the paddle attachment, cream the butter and sugar on medium speed until light yellow, about 2 minutes.
With the mixer on low speed, add the vanilla, eggs, and peanut butter. Mix until all ingredients are combined.
In a small bowl, sift together the flour, baking powder, and salt.
With the mixer on low speed, slowly add the flour mixture to the peanut butter mixture. Mix just until combined.
Spread 2/3 of the dough into the prepared cake pan and spread over the bottom with a knife or offset spatula.
Spread the jam evenly over the dough.
Drop small globs of the remaining dough evenly over the jam. Don't worry if all the jam isn't covered; it will spread in the oven.
Sprinkle with chopped peanuts and bake for 45 minutes, until golden brown. Cool and cut into squares.
[ad name="space"]