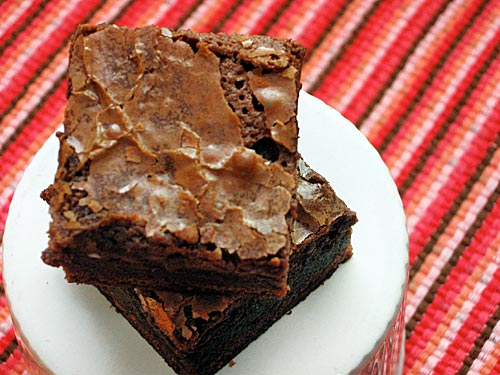 We took these French Chocolate Brownies to a "Lost" season finale party Thursday night, and it's a good thing the room was dark, so no one noticed exactly how many I wolfed down.
I needed something to supplement our dinner, which was a menu of Things That Are Difficult If Not Impossible For Me To Eat In Public. We're talking corn-on-the-cob, which makes me obsess about my teeth. I think there's something stuck between them. Can he see it? Maybe if I drink some water. Nope. Where's a mirror? Maybe I can just keep my mouth shut all night. Is that a kernel?
And there were vegetables that had to be sliced with a knife.
Remember that scene in "Pretty Woman" where Julia Roberts tries to shuck an oyster and winds up hurling it across the restaurant? That's me. That's why I like to order things that stay put, like taters.
Anyway, I made a meal of these brownies. The crackly top adds a little texture to an otherwise completely moist, melt-in-your-mouth, fudgy brownie. Perfect for picnics, parties, and corn malfunctions.
French Chocolate Brownies

From Dorie Greenspan's "Baking: From My Home to Yours"

1/2 cup all-purpose flour
1/8 teaspoon salt
1/8 teaspoon cinnamon (optional)
1/3 cup raisins, dark or golden
1 1/2 tablespoons water
1 1/2 tablespoons dark rum
6 ounces bittersweet chocolate, finely chopped
1 1/2 sticks (12 tablespoons; 6 oz.) unsalted butter, at room temperature and cut into 12 pieces
3 large eggs, at room temperature
1 cup sugar

Preheat the oven to 300 degrees F. Line an 8-inch square baking pan with foil, butter the foil, place the pan on a baking sheet, and set aside.
In a small bowl, whisk together the flour, salt and cinnamon, if you're using it.
Put the raisins in a small saucepan with the water, bring to a boil over medium heat and cook until the water almost evaporates. Add the rum, let it warm for about 30 seconds, turn off the heat, stand back and ignite the rum. Allow the flames to die down, and set the raisins aside until needed.
Put the chocolate in a heatproof bowl and set the bowl over a saucepan of simmering water. Slowly and gently melt the chocolate, stirring occasionally. Remove the bowl from the saucepan and add the butter, stirring so that it melts. Set aside.
Working with a stand mixer with the whisk attachment, beat the eggs and sugar until they are thick and pale, about 2 minutes. Lower the mixer speed and pour in the chocolate-butter, mixing only until it is incorporated. Add the dry ingredients and mix at low speed for about 30 seconds. Finish folding in the dry ingredients by hand with a rubber spatula, then fold in the raisins along with any liquid remaining in the pan.
Scrape the batter into the pan and bake 50 to 60 minutes, or until the top is dry and crackled and a knife inserted into the center of the cake comes out clean. Transfer the pan to a rack and allow the brownies to cool to warm or room temperature.
Carefully lift the brownies out of the pan, using the foil edges as handles, and transfer to a cutting board. With a long-bladed knife, cut the brownies into 16 squares, each roughly 2 inches on a side, taking care not to cut through the foil.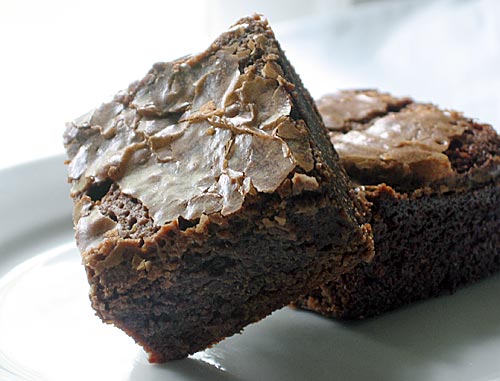 [ad name="space"]