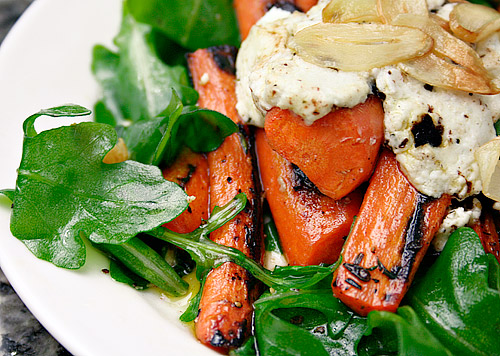 When Jeff sends me a recipe, it's usually for something kinda over-the-top but nifty, like the Rubik's Cube Sandwich or the Chocolate Chip Cookie Bowl Sundae, so when he sent me a link to this salad – a salad? were the carrots made of chorizo? – from "Seven Fires," it got my attention.
I wasn't sure about the burnt carrots, but here's the deal. You toss the raw carrot sticks in olive oil, thyme, salt and pepper; add them to a hot cast-iron skillet and let them char a little on both sides. So, they're crunchy and tender at the same time. And then you blacken the goat cheese and slide it onto the carrots.
Fantastic! Who knew?
The finished salad is a few handfuls of arugula and parsley tossed with a light vinaigrette and topped with the burnt carrots, gooey blackened goat cheese and crispy garlic chips, which you can make by frying the garlic slices in olive oil for just a few seconds.
It's an odd combination of things that really works, and I'll definitely be making it again. Unlike the Rubik's Cube Sandwich, which I will never make.
Probably never make.
Which, let's be honest, Jeff could talk me into making, but he really shouldn't, because IT'S JUST WRONG, even if it is your birthday.
Seriously.
Burnt Carrots with Goat Cheese, Arugula and Crispy Garlic Chips

Adapted from Francis Mallmann's "Seven Fires: Grilling the Argentine Way"

Serves 8

2 tablespoons red wine vinegar

1/2 cup plus 1 to 2 tablespoons extra virgin olive oil

Coarse salt and freshly ground black pepper

8 medium carrots (about 1 1/4 pounds), peeled

1 tablespoon chopped fresh thyme

1 small bunch flat-leaf parsley, leaves only

2 bunches arugula, trimmed, washed, and dried

6 ounces goat cheese, sliced 1/2-inch thick

Crispy Garlic Chips (recipe below)

For the Vinaigrette: Pour the vinegar into a small bowl, and whisk in 5 tablespoons of the extra virgin olive oil. Season to taste with salt and pepper. Set aside.
Cut the carrots crosswise in half, then cut the halves into thick rough sticks. Toss in a bowl with 3 tablespoons of the olive oil and thyme; season with salt and pepper to taste.
Heat a large cast-iron skillet over high heat. Working in batches if necessary, add the carrots in a single layer and cook, without turning, until they are charred on the bottom and almost burned, 3 to 5 minutes. Turn with a spatula and cook on the other side for 2 to 3 minutes more. (They'll be crunchy on the outside, tender inside.) Transfer to a tray. Wipe out the skillet, if using, and set aside.
Combine the parsley and arugula on a large serving platter and toss lightly with half the vinaigrette. Place the carrots on top.
Reheat the skillet to very high heat and coat with the remaining 1 to 2 tablespoons olive oil. Immediately add the slices of goat cheese: be careful—the oil may spatter. As soon as the cheese blacken on the bottom, remove the slices with a thin spatula and invert onto the carrots. Toss the garlic chips over the salad and drizzle with the remaining vinaigrette.




Crispy Garlic Chips

Serves about 4 as a garnish

4 garlic cloves, as large as possible, peeled

1 cup olive oil

Slice the garlic very thin, using a mandoline or knife.
Heat the olive oil in a 10-inch cast-iron skillet over medium heat until very hot. Line a plate with two paper towels. To test the temperature of the oil, add a slice of garlic. If it sizzles, add the rest of the garlic and cook until just crisp and light golden brown, a matter of seconds. Use a flat slotted skimmer to keep the slices from sticking together as they cook, and transfer them to the paper towels the moment they turn color. (The oil can be strained and used for another batch or reserved for another use.)
[ad name="space"]