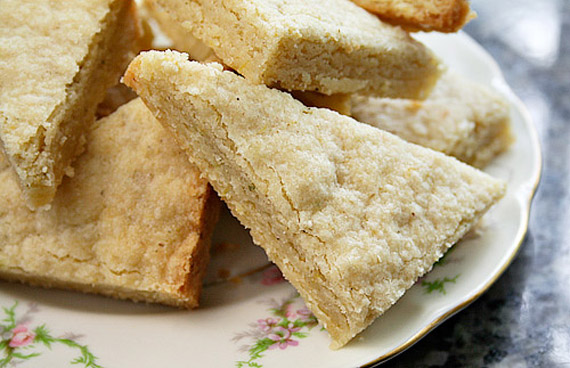 I found this recipe for Lemon-Chamomile Shortbread in "Real Simple"
about six years ago. Each cookie is so buttery and crumbly, just the thing when you're craving a little something to go along with a warm cup of tea the size of South America.
I love the subtle lemon and chamomile flavors, but you could easily adjust the recipe to suit your own tastes, maybe with orange zest and a teaspoon of orange zinger. Chai. Pear white tea. The process is wonderfully lazy: Mix the dough in one bowl, press it into a pan and bake.
Lovely enough for a bridal tea or baby shower, easy enough to make your own private stash when the mood strikes. Just don't wait six years to pass it on.
Lemon-Chamomile Shortbread

Adapted from Real Simple(March 2003)

Yield: 18 cookies

1 cup (2 sticks) unsalted butter
1/2 cup sugar
1/4 teaspoon salt
Grated zest from 1 lemon
1 teaspoon loose chamomile tea
2 1/4 cups all-purpose flour

Preheat oven to 325 degrees F. Grease an 8-inch square cake pan.
In a standing mixer fitted with a paddle attachment, combine the butter, sugar and salt. Beat until light and fluffy. Blend in the lemon zest, loose tea and flour until smooth. Press into pan.
Bake 30 minutes or just until the shortbread begins to turn golden. Cut into 9 squares, then cut each square into 2 triangles.
Cool completely on a wire rack. Remove cookies from pan.
[ad name="space"]