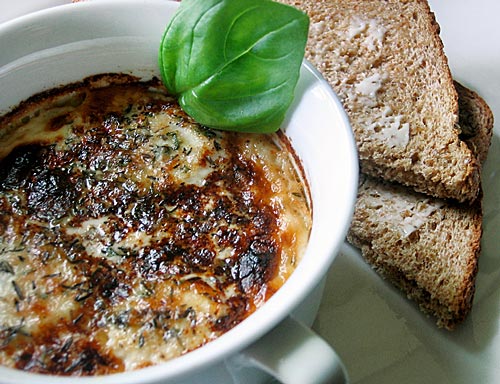 Do you have the Barefoot Contessa fantasy?
The one where you come home to mammoth bouquets of freshly-picked, artfully arranged flowers. Tomato and feta salad packed into Chinese takeout containers. Picnics on the beach and fireside dinners. The perfect cocktail for every meal. A refrigerator filled with exotic cheeses, olives, and homemade lemon curd. And friends who are international experts in garden lighting and table settings.
You know, the fantasy where you're the Contessa's husband, Jeffrey.
Guilty as charged.
That's why I was very excited to find the Barefoot Bloggers, a new group celebrating Ina Garten, aka the Barefoot Contessa. Twice a month, we'll be cooking and baking from her books and Food Network recipes.
Today's inaugural recipe was Herbed-Baked Eggs. Gratin dishes filled with eggs, cream, and butter, broiled with a crunchy topping of fresh herbs, Parmesan, and salt and pepper. I even got to use a little of my own freshly-grown basil. How Contessa is that?
Easy and really delicious.
So, I wouldn't really trade places with Ina's Jeffrey (those wool sweaters would rub me raw), but I'm looking forward to trying out these recipes with my Jeff. I might even spring for those cute Chinese takeout boxes. He's worth it.
Herbed-Baked Eggs

Adapted from Ina Garten's "Barefoot in Paris"

1/4 teaspoon minced fresh garlic
1/4 teaspoon minced fresh thyme leaves
1/4 teaspoon minced fresh rosemary leaves
1 tablespoon minced fresh parsley
1 tablespoon freshly grated Parmesan
6 extra-large eggs
2 tablespoons heavy cream
1 tablespoon unsalted butter
Kosher salt and freshly ground pepper

Preheat the broiler for 5 minutes, and place the oven rack 6 inches below the heat.
Combine the garlic, thyme, rosemary, parsley and Parmesan, and set aside.
Carefully crack 3 eggs into each of 2 small bowls or teacups (you won't be baking them in these) without breaking the yolks. (It's important to have all the eggs ready to go before you start cooking.)
Place 2 individual gratin dishes on a baking sheet. Add 1 tablespoon of cream and 1/2 tablespoon of butter to each dish, and place under the broiler for about 3 minutes, until hot and bubbly.
Quickly, but carefully, pour 3 eggs into each gratin dish, and sprinkle evenly with the herb mixture, then sprinkle liberally with salt and pepper.
Place back under the broiler for 5 to 6 minutes, until the whites of the eggs are almost cooked. (Rotate the baking sheet once if they aren't cooked evenly.) Allow to set for 60 seconds, and serve immediately.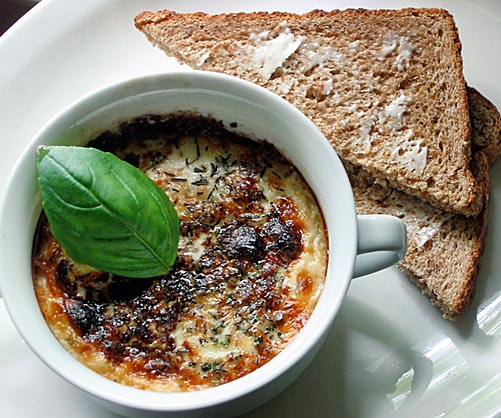 [ad name="space"]