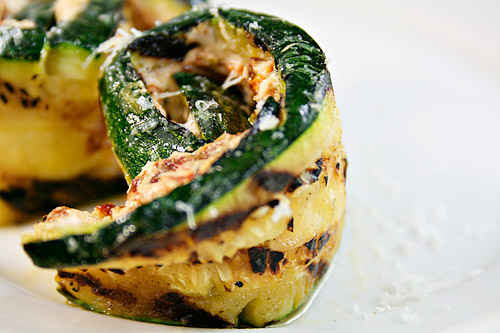 Right about now, you might be asking yourself, Why the hell did I plant so much zucchini? Especially if you've already given in and made zucchini bread (or anything combining zucchini and chocolate), and you've still got zucchini multiplying in your garden like Duggars.
So, here's one last simple, tasty zucchini recipe: Grilled Zucchini Rollatini with Sun-Dried Tomatoes and Goat Cheese.
Combine goat cheese, sun-dried tomatoes, thyme, Parmesan and olive oil into a spreadable mixture; place a heaping spoonful on one end of a grilled zucchini slice and roll.
The subtly flavored zucchini is a perfect foil for the richness and tang of the goat cheese and the intensity of the sun-dried tomatoes.
The whole process takes just a few minutes using an indoor grill pan, so you could easily make a small batch of these and inhale one or two whilst your Eternal Love and Life Partner is outside prepping The Grill and fighting mosquitoes large enough to rape chihuahuas. Just make sure he gets the last of the ice cream. It's the Duggar way.
Grilled Zucchini Rollatini

Adapted from September Norman (via "Talk of the Town," NewsChannel5.com, Sept. 2008)

3 medium zucchini, ends removed
2 tablespoons olive oil
Kosher salt
4 ounces goat cheese, room temperature
2 tablespoons oil-packed sun-dried tomatoes, drained and finely chopped
3/4 teaspoon fresh thyme, stems removed, finely chopped
2 tablespoons Parmesan cheese, grated (plus additional for garnish)

Heat grill or grill pan to medium-high heat.
Cut the zucchini into thin lengthwise strips, about ¼-inch thick. Brush strips with olive oil and sprinkle salt on both sides. Grill the slices just until well browned and limp. Place them on a cooling rack.
In a small bowl, combine the goat cheese, sun-dried tomatoes, thyme, Parmesan, 1 1/2 teaspoons olive oil and ¼ teaspoon salt.
To Assemble: Lay zucchini on flat working surface, and place 1 heaping teaspoon of the filling on one end. Roll up the zucchini, and place on serving platter or baking sheet.
Serve at room temperature, or heat it in a 350 degree F oven until warm, about 3-4 minutes. Sprinkle with additional Parmesan, if desired.
[ad name="space"]