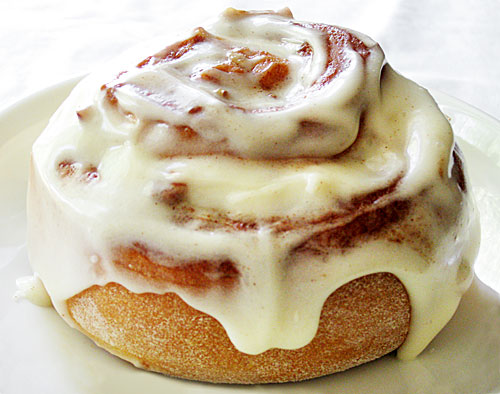 WARNING: The following recipe is for Peter Reinhart's Cinnamon Buns. It has much less fat content than what you're probably used to, so the results more closely resemble a bun than something you would find at Cinnabon. Think bready, not gooey.
You should be seeing a delicious Dimply Plum Cake here, since that is today's Tuesdays with Dorie recipe, but I'm in the midst of a food-related allergic reaction that has turned my bottom lip into something that could be entered in the Macy's Thanksgiving Day Parade. So, I will not be introducing anything semi-unusual into my diet until The Lip leaves the building. Seriously, how does Angelina Jolie drink coffee with these things?
Anyway, a few weeks ago, I made Peter Reinhart's Cinnamon Buns. Once upon a time, I made cinnamon rolls for a living, so when I saw that the Daring Bakers had tried this recipe, I wanted to give it a go. Plus, the day we got married, I promised Jeff I would always make him cinnamon rolls, just like the ones I brought him every weekend from the bakery. Almost nine months later, it was time to make good.
Reinhart's sweet yeasted dough came together beautifully in the mixer. His recipe offers a range in the amount of whole milk or buttermilk to add to the dough. You'll need less liquid when the humidity is high – a fact of baking that drives a lot of people crazy. Just add the milk slowly, and look for the dough to start forming a ball. Don't panic if you add too much; just toss in a little more flour to balance things. Then mix the dough for about 10 minutes. You'll know it's ready when it comes together, feels smooth and slightly tacky (not sticky) and can be lifted easily out of the mixer without scraping or profanity.
After the dough has doubled in size (about two hours), you'll roll it into a rectangle and sprinkle the filling over the top. Reinhart's recipe calls for a simple cinnamon sugar filling on bare dough, but the next time I make these, I'll brush melted butter over the dough before adding the filling (and increase the filling from 1/2 cup of cinnamon sugar to 3/4 cup). I admire Reinhart's restraint, but I like my cinnamon rolls gooey.  Good enough to regret later.
Slicing the roll of dough into buns can be intimidating. I like to spray a little water along the seam and gently press the flap of dough to keep it from opening while I'm slicing. Roll the seam onto the table, and grab something to measure the buns. If you're feeling anal, grab a ruler and mark the slices with a knife. If you're in a hurry, grab a McCormick tin and use the edge to measure the buns. I slice mine with a bench scraper, but you could use dental floss, a chef's knife or a serrated knife. Find the one that works for you.
So, after all the mixing, fermenting, rolling and slicing, the moment is finally here. The moment of supreme anticipation, when you slide the baking sheet into the oven and wait for the house to fill with the scent of cinnamon and sugar. I love that moment. I love how the whispered scent of "something's baking" builds into a shout that calls everyone to the kitchen, starving for cinnamon buns even if they've just had a meal.
If only carrots and cauliflower smelled like cinnamon and sugar …
Straight out of the oven, these buns required discipline I didn't know I had to wait 10 minutes before glazing them. If your constitution is particularly weak and you just HAVE to glaze them early, be careful about handling the hot cinnamon sugar. As in, don't. "Sticky" and "burning" are a bad combination.
Since Reinhart's cinnamon sugar filling was a little skimpy, I topped the buns with a thick layer of cream cheese glaze. I'm sure it's good for the environment. Cream cheese, butter, powdered sugar and vanilla, beaten within an inch of their lives. Perfect for liberally smearing onto rows of waiting cinnamon buns. By the time I had the first one glazed, Jeff had vaulted from the garage across the basement up the stairs and into the kitchen. That smell! Nothing short of man-catching.
With the holidays approaching soon enough, it's the perfect time to teach yourself how to make cinnamon buns. Yes, there are many instructions, and the process is a little time-consuming. But people will look at you with the sort of unbridled joy typically reserved for babies, puppies, Santa and Pamela Anderson. That look, and the rush of footsteps on the stairs, make the entire process worth it. That and the cream cheese.
Cinnamon Buns

Adapted from Peter Reinhart's "The Bread Baker's Apprentice"


Makes 8 to 12 large or 12 to 16 smaller buns

6 1/2 tablespoons (3.25 ounces) granulated sugar
1 teaspoon salt
5 1/2 tablespoons (2.75 ounces) shortening or unsalted butter, room temperature
1 large egg, slightly beaten
1 teaspoon lemon extract or zest
3 1/2 cups (16 ounces) unbleached bread or all-purpose flour
2 teaspoons (.22 ounce) instant yeast
1 1/8 to 1 1/4 cups (9 to 10 ounces) whole milk or buttermilk, room temperature
1/2 cup (4 ounces) cinnamon sugar (6 1/2 tablespoon granulated sugar plus 1 1/2 tablespoons cinnamon

In a standing mixer fitted with the paddle attachment, cream the sugar, salt and shortening on medium-high speed. Whip in the egg and lemon extract until smooth. Then add the flour, yeast, and milk. Mix on low speed until the dough forms a ball.
Switch to the dough hook, and increase the speed to medium, mixing for approximately 10 minutes, or until the dough is tacky but not sticky.
Lightly oil a large bowl and transfer the dough to the bowl, rolling it around to cover it with oil. Cover bowl with plastic wrap.
Ferment at room temperature for approximately 2 hours, or until the dough doubles in size.
Mist the counter with spray oil, and transfer the dough to the counter. Roll out the dough with a rolling pin, lightly dusting the top of the dough with flour. Roll it into a rectangle about 2/3 inch thick and 14 inches wide by 12 inches long for larger buns, or 18 inches wide by 9 inches long for smaller buns.
Sprinkle the cinnamon sugar over the surface of the dough, and roll the dough up into a log, creating a spiral as you roll. With the seam side down, cut the dough into 8 to 12 even pieces, each about 1 3/4 inches thick for larger buns; or 12 to 16 pieces each 1 1/4 inch thick for smaller buns.
Line 1 or more sheet pans with baking parchment. Place the buns approximately 1/2 inch apart.
Proof at room temperature for 75 to 90 minutes, or until the pieces have grown into one another and have nearly doubled in size. (You could place the shaped buns in the refrigerator for up to two days, pulling the pans out of the refrigerator 3 to 4 hours before baking to allow the dough to proof.)
Preheat the oven to 350 degrees F with the oven rack on the middle shelf.
Bake the buns for 20 to 30 minutes, or until golden brown.
Cool the buns in the pan for about 10 minutes, and then glaze the tops. Remove the buns from the pans, and place them on a cooling rack. Wait at least 20 minutes before serving.
Cinnamon Bun Glaze

Adapted from Molly Wizenberg, "Bon Appetit"(March 2008)

4 ounces cream cheese, room temperature
1 cup powdered sugar
1/4 cup (1/2 stick) unsalted butter, room temperature
1/2 teaspoon vanilla extract

In a standing mixer fitted with a paddle attachment, combine cream cheese, powdered sugar, butter and vanilla. Spread glaze on rolls.
[ad name="space"]