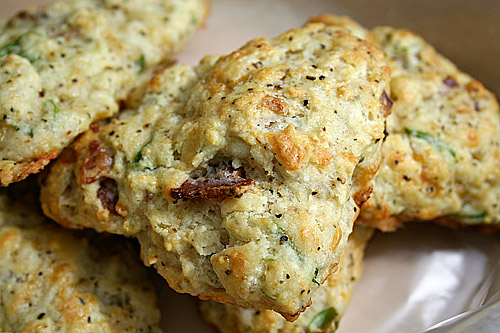 Every time I bake a batch of Peppery Bacon and Cheddar Scones – these magical clusters of  heat, tang and smoke – Jeff and I have the same conversation: what makes them scones instead of biscuits?
I mean, you definitely wouldn't serve these with jam and clotted cream.
These would not be the scone of choice for the pinkies-up crowd.
However, scones and biscuits are more similar than you might think. Both can be sweet or savory, triangular or round. Both can contain cream or buttermilk or the same fats, including lard. Both are crusty with soft interiors. Even the mixing methods are the same.
So, what's the real difference? It's in the ratios.
Biscuits tend to have a ratio of 3:1:2 (3 parts flour, 1 part fat, 2 parts liquid), while scones usually have a ratio of 3:1:1. That seemingly slight difference is why biscuits are flaky and chewy, and scones are more spongy and crumbly. Since this recipe has a fluctuating amount of liquid (3/4 to 1 1/2 cups, depending on the weather), it could go either way.
Use the minimum amount of liquid, and you'll have scones. Use the max, and you'll have biscuits.
Either way, they make an appearance at our house once a week. I make a half-batch and skip the rolling pin in favor of patting down the dough and getting the scones into the oven. Each one brings a lot of personality to the plate, so you can eat them as-is and be perfectly satisfied, or you can split them and fill them with 1-egg omelets, sandwich meat or sliced tomatoes.
Just make sure to eat them with your pinkies up.
Peppery Bacon and Cheddar Scones

Adapted from Rebecca Rather's "The Pastry Queen"

Makes 8 to 10 scones

3 cups all-purpose flour
1 tablespoon baking powder
1 teaspoon salt
2-3 teaspoons freshly ground black pepper
1/2 cup (1 stick) chilled unsalted butter, cut into small cubes
1 1/2 cups grated Cheddar cheese (or Monterey Jack, Havarti, Habanero Cheddar, etc.)
4 green onions
10 slices bacon, cooked and chopped into 1-inch pieces
3/4 to 1 1/2 cups buttermilk (substitute half the amount with cream for a richer scone)
1 large egg
2 tablespoons water

Preheat the oven to 400 degrees F. In a large bowl, stir together the flour, baking powder, salt and pepper.
Cut in the butter with a pastry blender or two knives until the mixture is crumbly and studded with flour-butter bits the size of peas.
Stir in the cheese until just blended.
Add the green onions, bacon and 3/4 cup buttermilk. Mix just until the ingredients are incorporated. If dough is too dry to hold together, add the remaining buttermilk, 1 tablespoon at a time, until the dough can be formed into a ball. Stir as little as possible to ensure a light-textured scone.
Place the dough on a lightly floured surface, and pat it into a ball. Using a well-floured rolling pin, flatten the dough into a circle about 8 inches wide and 1/2 inch thick. Cut the dough into 8 to 10 equal wedges.
Whisk the egg and water together in a small bowl. Brush each wedge with the egg wash. Place the scones on an ungreased baking sheet, and bake for 18 to 20 minutes, or until golden brown and no longer sticky in the middle. Serve warm.
[ad name="space"]