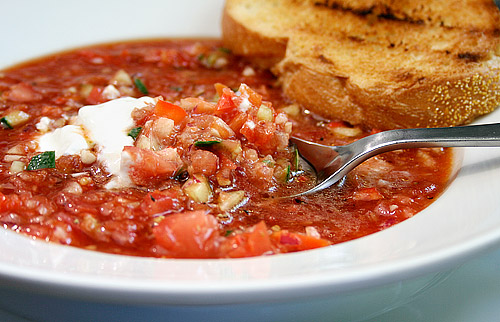 I was going to write about trying gazpacho for the first time.
Yesterday, I bellied-up to a big, bracing bowl. Simple. Fresh. Fast.
And it didn't taste like salsa.
But I'm not thinking about that tonight. I'm thinking about Michael and Farrah.
Let's discuss.
In summer 1984, there wasn't a more coveted, longed-for object than a ticket to the Jacksons' Victory Tour. That was when the "M" in MTV seemed to stand for Michael. Kids were trying to teach themselves how to moonwalk. Everyone could sing along to every song on "Thriller." The height of Michael Jackson Mania.
I was 10.
My parents did not share my obsession.
The closest tour stop was Knoxville, but he might as well have been performing on the Great Wall of China. I wasn't going. There was absolutely no hope. And then a Nashville radio station announced a ticket contest: you could send them a postcard, and if they drew your name, you had 10 minutes to phone the station to claim your tickets. I mailed one postcard. In secret. And every night I turned down my radio (so my parents wouldn't know how late I was staying up) and listened for my name to be called.
AND IT WAS.
I heard my name –my name! my name! – and it was like winning the lottery and finding one of Willy Wonka's Golden Tickets and breaking a world's record all in one glorious moment. I jumped out of bed and ran to the nearest phone – the one in my parents' bedroom – and yammered an explanation to them as I dialed the radio station's number, desperate to get through to the DJ before my 10 minutes were up, but my voice just came out as a squeal. I sounded like a manic preteen dolphin.
Going to that concert was the thrill of a 10-year-old's lifetime. That's what I want to remember about Michael Jackson.
What about you? Are Michael and Farrah on your mind tonight? Did you have (or aspire to have) "Farrah hair"? Did you stay up late trying to catch "Thriller" on "Friday Night Videos"?
Gazpacho

From Ina Garten's "The Barefoot Contessa Cookbook"

Servings: 4 to 6

1 hothouse cucumber, halved and seeded, but not peeled
2 red bell peppers, cored and seeded
4 plum tomatoes
1 red onion
3 garlic cloves, minced
23 ounces tomato juice (3 cups)
1/4 cup white wine vinegar
1/4 cup good olive oil
1/2 tablespoon kosher salt
1 teaspoons freshly ground black pepper

Roughly chop the cucumbers, bell peppers, tomatoes and red onions into 1-inch cubes.
Put each vegetable separately into a food processor fitted with a steel blade and pulse until it is coarsely chopped. Do not overprocess!
After each vegetable is processed, combine them in a large bowl and add the garlic, tomato juice, vinegar, olive oil, salt and pepper. Mix well and chill before serving. The longer gazpacho sits, the more the flavors develop.
[ad name="space"]