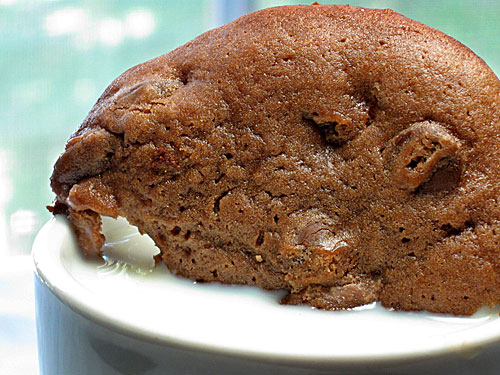 See that gigantic cookie up there? That's a Chocolate Whopper Malted Drop. Chocolate chips. Whoppers. Malted milk. The hardest thing about making these cookies is chopping the Whoppers before they roll onto the floor. Or you eat them. Or they roll onto the floor and Henry the dog eats them and pants Whopper breath the rest of the night.
The thing is, I wasn't excited about this Tuesdays with Dorie pick until four days after I'd made them. Straight out of the oven, I thought they were OK. I was ready for crispy and crunchy; I got cakey and chewy. Jeff LOVED them. So, I boxed them up for him to take to the office, with the exception of one lone cookie for today's photograph.
Four days later, I remembered the photo. And the cookie.
STILL MOIST!
I dipped it into my milk, took a bite STRICTLY FOR FOOD-BLOGGING PHOTO PURPOSES, and I liked it. The cakey cookie absorbed the milk, so the Whoppers seemed crunchier. Finally, this cookie had a purpose: dunking. And there was order in the Universe that hadn't been there since my label-maker ran out of ink right before I hosted a cupcake tasting with all white frostings. There is no fury like OCD-baker fury.
Unfortunately, now I can't work in the kitchen without Henry expecting a Whopper to roll off the counter. Tonight, I dropped an olive, and before his brain could register "Not a Whopper!," he'd swallowed it whole. Is it wrong to laugh while your dog's face contorts into a very hairy drawstring purse?
How wrong?
Chocolate Malted Whopper Drops

Adapted from Dorie Greenspan's "Baking: From My Home to Yours"

1 3/4 cups all-purpose flour
1 cup malted milk powder
1/4 cup unsweetened cocoa powder
1 1/2 teaspoons baking powder
1/4 teaspoon salt
1 stick plus 3 tablespoons (11 tablespoons) unsalted butter, at room temperature
2/3 cup sugar
2 large eggs
1 teaspoon vanilla extract
1/4 cup whole milk
2 cups chocolate-covered malted milk balls, coarsely chopped
6 ounces bittersweet chocolate, coarsely chopped, or 1 cup chocolate chips or chunks

Preheat oven to 350 F. Line two baking sheets with parchment or silicon mats.
In a medium bowl, sift together the flour, malted milk powder, cocoa, baking powder and salt. Set aside.
In the bowl of a stand mixer fitted with the paddle attachment, beat the butter and sugar together on medium speed until very smooth, about 3 minutes.
Add the eggs, one at a time, beating for 1 minute after each addition.
Beat in the vanilla. (Don't be concerned if the mixture looks curdled; it will even out once the dry ingredients are added.)
Reduce the mixer speed to low, add half the dry ingredients, mixing until they just disappear into the batter. Mix in the milk, then the remaining dry ingredients, mixing only until they are incorporated.
With the mixer on low, or by hand with a rubber spatula, mix in the malted milk balls and chocolate pieces.
Drop the cookie dough onto the prepared baking sheets, one rounded tablespoon per cookie, leaving about 2 inches between each. Bake for 11 to 13 minutes, rotating sheets from top to bottom and front to back halfway through.
When done, let the cookies rest for 2 minutes before using a wide metal spatula to transfer them to racks to cool to room temperature. Bake remaining dough in similar fashion.
[ad name="space"]