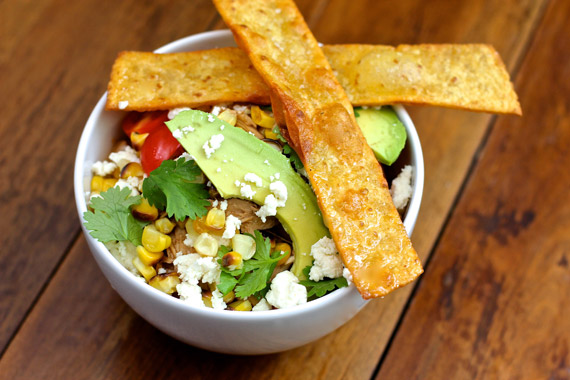 We've been doing Taco Tuesday all summer, because it's a fun way to use up leftovers, and who doesn't like tacos? They're delicious.
But even good things need to be switched up once in a while, which is why I made a big batch of Mas Tacos Por Favor's Tortilla Soup last Tuesday. Mas Tacos is a funky little Mexican joint in East Nashville that's known for its unique tacos (especially the fried avocado and sweet potato-quinoa), Mexican grilled corn and this soup, which STAYS sold out. Year-round. I've never gotten there in time to get a bowl, so when I found the recipe in "Bon Appetit," I wooo'd like one of those chicks who wear pink cowboy hats to bars.
It made the dog bark.
Anyway, this isn't some thick, wintry tortilla soup. It's light and fresh and colorful. A smoky chicken soup topped generously with fried tortilla strips and summery things, like grilled corn, cherry tomato halves, sliced avocado, fresh cilantro, queso fresco and fresh lime juice. (If you're eating healthier, you could crumble some baked tortilla chips into your soup  instead of adding the fried strips, but you'd probably be better off just pretending the strips are made out of tofu. They're really good.)
I love that every bowl can be different. You can use the garnishes suggested in the recipe or raid your fridge and pantry for other possibilities, like canned chipotles in adobo (to add to the simmering stock), diced tomatoes, pico de gallo, canned beans, Cheddar cheese, sour cream – whatever sounds good to you.
The soup does take time – about 45 minutes to cook the chicken and an additional hour to reduce the broth – but that's not active time in the kitchen. As long as you remember to skim the pot every once in a while, you can be in the next room, reading or binge-watching Orange Is the New Black while it does its thing. Or call some friends to BYOB (Bring Your Own Bowl) and help you eat all this soup.
Wooooooooo!
Tortilla Soup

Look for chipotle chiles at specialty foods stores and Latin markets.
From Mas Tacos Por Favor via "Bon Appetit" (February 2012)
Makes 8 servings

1 4-pound chicken
1 onion, quartered
1 carrot, peeled, chopped
5 garlic cloves, smashed
2 dried chipotle chiles
1 jalapeño (with seeds), halved lengthwise
7 cilantro sprigs
3 tablespoons (or more) fresh lime juice
Kosher salt and freshly ground black pepper
Vegetable oil (for frying)
5 corn tortillas, cut in 1/2″-thick strips
2 ears of husked corn, or 2 cups frozen, thawed corn kernels
Chopped fresh cilantro, halved cherry tomatoes, avocado wedges, queso fresco or mild feta

Bring chicken, onion, carrot, garlic, chipotles, jalapeño, and 16 cups water to a boil in a large soup pot; skim foam from surface. Reduce heat to medium and simmer, skimming the surface frequently, until chicken is cooked through to 165 degrees F, about 45 minutes. (Check the temperature after 30 minutes.)
Transfer chicken to a plate.
Strain broth into another large pot. Return chiles to broth, if a spicier broth is desired; discard remaining solids.
Shred chicken meat; discard skin and bones. Transfer meat to a medium bowl, and set aside.
Meanwhile, set pot with strained broth over medium heat, and add cilantro sprigs. Bring broth to a simmer; cook until reduced to 8 cups, about 1 hour. Discard sprigs and chiles, if using. Stir in 3 tablespoons lime juice. Season with salt and pepper.
Add chicken to broth. DO AHEAD: Can be made 2 days ahead. Chill until cold, then cover and keep chilled.
Attach deep-fry thermometer to the side of a large cast-iron skillet or other heavy skillet. Pour oil into skillet to a depth of 1″. Heat over medium heat until thermometer registers 350°–360°. Working in batches, fry tortilla strips, turning occasionally, until crisp and golden brown, 2–3 minutes per batch. Using a slotted spoon, transfer to paper towels to drain. Season with salt.
Cook corn over a gas flame or under a broiler, turning occasionally, until charred in spots. Let stand until cool enough to handle. Cut kernels from cobs in strips. Discard cobs. (Alternatively, cook kernels in a large skillet over high heat until charred in spots.)
Rewarm broth with chicken. Divide soup among bowls. Top generously with corn, tortilla strips, cilantro, tomatoes, avocado, and crumbled queso fresco. Add a final squeeze of lime juice to each bowl, and dig in.

Nutritional Information (Per Serving) – calories: 312, fat: 12g, carbs: 14.5g, fiber: 1.1g, protein: 35.4g, PP+ = 8
[ad name="space"]