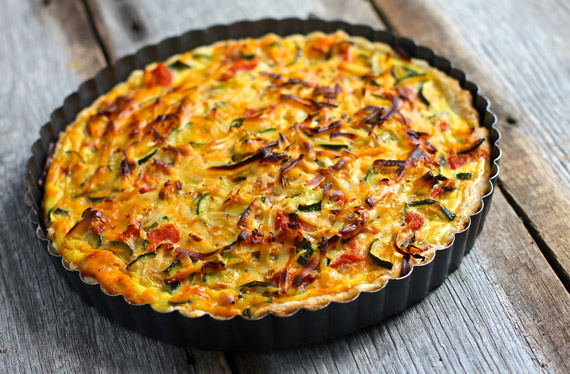 So, if you made those Mini Strawberry Napoleons from a few weeks ago, you're probably looking for something to do with that second sheet of frozen puff pastry, before it gets lost behind the ice cream or under that sack of buffalo chicken tenders.
Try this Zucchini, Tomato and Cheese Tart.
You roll out the second puff pastry sheet for an easy pie crust and fill it with sautéed onion, zucchini and tomato, plus three eggs and a few handfuls of grated smoked Gouda. Or Cheddar. Or mozzarella. Because one of the great things about being an adult is getting to choose your own cheese.
It's such an easy recipe that if you nail it down now, you can have fun experimenting with it all summer. Add mushrooms, fresh corn, green chiles or diced red bell pepper. Toss in small chunks of ham. Stir in a little cooked bacon or browned sausage.
If you want something easy that can work for breakfast or lunch, unlike those buffalo chicken tenders, this one's for you. 
Easy Zucchini, Tomato and Cheese Tart

Adapted from Jeanne Lemlin (via FoodNetwork.com)

Serves 4 to 6

1 sheet (half of a 17.3-ounce package) frozen puff pastry
2 tablespoons olive oil
1 onion, finely diced
2 garlic cloves, minced
2 medium zucchini, quartered lengthwise and thinly sliced
1/2 teaspoon dried oregano
1/4 teaspoon ground black pepper
1 (14-ounce) can ready-cut diced tomatoes, well drained
3 large eggs
1 cup grated smoked Gouda (substitutes: Cheddar, Monterey jack, mozzarella, Muenster, provolone)
1/2 teaspoon salt
Generous seasoning freshly ground black pepper

Heat the oven to 400 degrees F. Lightly butter a glass pie plate or a dark 9-inch tart pan with a removable bottom. Set aside.
Remove the puff pastry from the package, and let it thaw at room temperature for 30 to 40 minutes.
Meanwhile, Make the Filling: Heat the oil in a large skillet over medium heat. Add the onion and garlic, and cook until the onion is slightly tender, about 5 minutes.
Stir in the zucchini, and saute just until it begins to soften, about 5 minutes. Season with oregano and black pepper.
Mix in the drained tomatoes, and raise the heat to medium-high. Cook, stirring often, until the zucchini is tender but not mushy and the juices have evaporated. Set the pan off the heat, and let the veggies cool.
For the Crust: Sprinkle a little flour on your counter and rolling pin, and gently roll the puff pastry into an 11-inch square. Press the pastry into the bottom and up the sides of your pan. (Trim off the excess pastry, and discard.) Prick the pastry  with a fork, and place a piece of aluminum foil on the pastry. Add dried beans or pie weights to weigh down the foil. Bake until the pastry is golden brown, about 15 minutes. Remove the foil and weights. Let the pastry cool in the pan on a wire rack for 10 minutes.
Raise the oven temperature to 425 degrees F.
To Assemble the Tart: In a large bowl, beat the eggs. Stir in the cheese, salt, pepper, and cooled vegetables. Spoon the mixture into the tart pan. Bake 25 to 30 minutes, or until the pastry is brown and a knife inserted in the center of the tart comes out clean. Remove the outer rim of the tart pan, and let the tart cool on a wire rack for 20 minutes before slicing. Serve warm.
[ad name="space"]