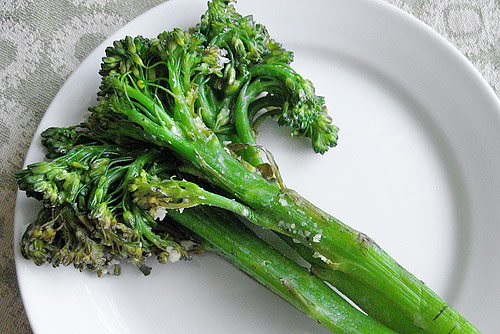 Do you buy the same vegetables over and over again? Guilty, guilty, guilty. So, I was happy to see that one of this month's Barefoot Bloggers bonus challenges was to try a vegetable I'd never even heard of: broccolini.
Broccolini is a cross between broccoli and Chinese kale. The florets are looser and more tender than you find with broccoli, and the stalks are longer and thinner, more like asparagus. Group members found it listed as broccolini, baby broccoli, aspiration and tender stem, so keep those aliases in mind, and look near the leafy greens instead of the broccoli.
Ina Garten's Sautéed Broccolini is a simple side: blanch the broccolini, make the garlic-lemon butter sauce, then add the broccolini to the pan with the sauce. The mild-flavored florets soak in the sauce and make a really bright, lemony side dish. But I'm thinking the tender stalks of the broccolini would be even better in a stir-fry.
Maybe then Jeff will try them.
For now, he's holding out for the Barefoot Bloggers second bonus recipe: Brownie Pudding.
Sautéed Broccolini

From Ina Garten ("Barefoot Contessa," Food Network)

Serves 6

1 bunch broccolini
Kosher salt
2 tablespoons unsalted butter
1/2 lemon, zested
1 teaspoon minced garlic
1 tablespoon lemon juice
1/4 teaspoon freshly ground black pepper

Blanch the broccolini in a large pot of boiling salted water for 2 minutes. Drain immediately and immerse in a bowl of ice water.
Melt the butter in a large saute pan. Add the lemon zest and garlic and stir.
Drain the broccolini and add it to the garlic mixture and heat for 2 minutes. Add the lemon juice, 1/2 teaspoon salt and the pepper, and toss well before serving.
[ad name="space"]