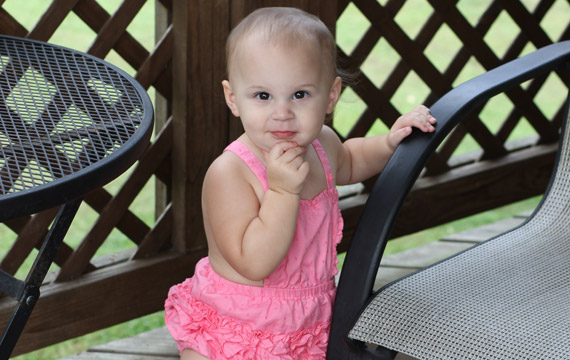 I'm not saying my baby niece, Riley, is a product of demon lovin', but when she's being bad, she makes eye contact.
Yes, she's also extremely affectionate. She wants to be kissed and cuddled and throws up the jazz hands when you walk into the room. But if you tell her not to unplug something, she unplugs it. If you tell her not to shake something, she shakes it. And if you threaten her with Time Out, she does exactly what she was going to do and struts to the Time Out corner like it ain't no thang.
I sort of respect it.
A few weeks ago, I set a little plastic bowl of chicken noodle soup on Riley's highchair, and – God help me – I turned my back on her. And in that 10 seconds, she pulled all of the noodles out of the soup and put them on her jammies for safekeeping, and now she was using her chubby widdle hands to lift the bowl of broth about three inches off the tray.
We made eye contact. She was smiling. 
"Don't do it, Riley," I said.
That's all it took.
She flipped the bowl upside-down and slung it to the floor in one fluid motion. Literally. Then she smiled at me again – the smile that makes her left dimple go so deep, you could put a poker chip in it – and said, "More sooooop?"
Yes, I gave her more soup. She owns me, and she has plenty of halo to go with those horns.
But this time, I held the spoon.
(Seriously, if Rosemary's baby
had been a girl, don't you think she would have had dimples and curls to go with that tail? I think so.)
Anyway, making soup for my nieces got me in the mood to make some soup for lunch at home. Here are some of my favorite vegetarian soups for Meatless Monday: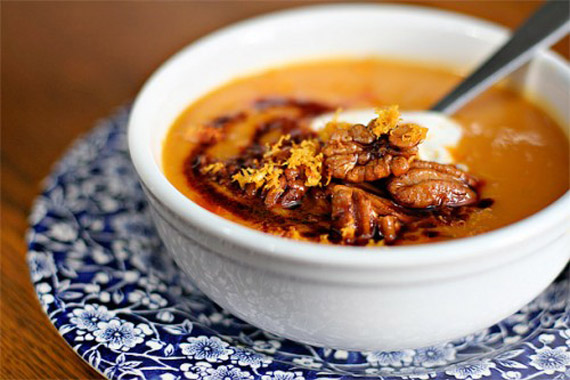 This Sweet Potato and Orange Soup with Smoky Pecans was a surprise favorite. When I read the title, I was afraid it'd taste like liquid sweet potato casserole, but it's a savory, velvety mix of puréed  roasted sweet potato, carrot, celery, leek, vegetable stock and thyme, with a pinch of curry powder and some orange juice for brighteness. Serve it in a big bowl with a spoonful of sour cream or Greek yogurt and some toasted pecans tossed in olive oil and smoked paprika. Heaven.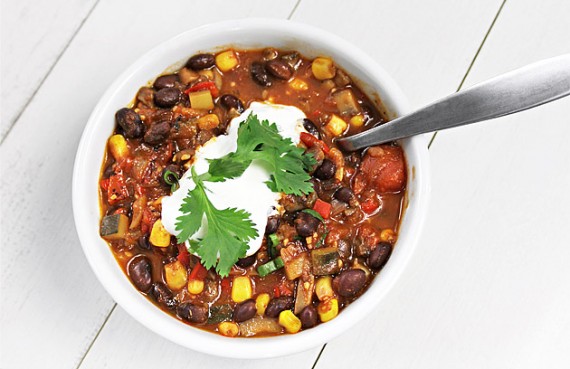 Most vegetarian chilis are cumin-and-bean gut bombs, but this one is so fun, delicious and (seriously) meaty, you'll never miss the beef.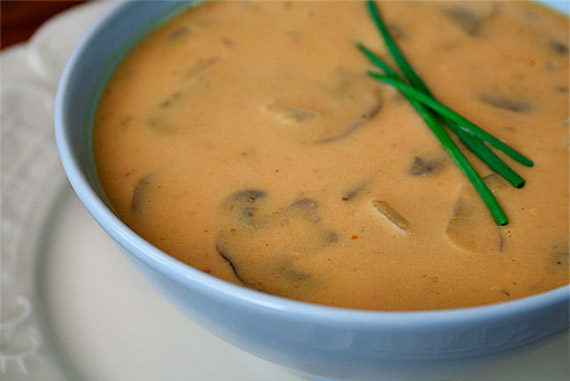 Curried Pumpkin Soup sounds weird, right? But it's a silky, savory lunch you can make in minutes with pantry ingredients – like canned pumpkin, broth, evaporated milk, honey and spices – freshened up with sliced mushrooms and chopped onion.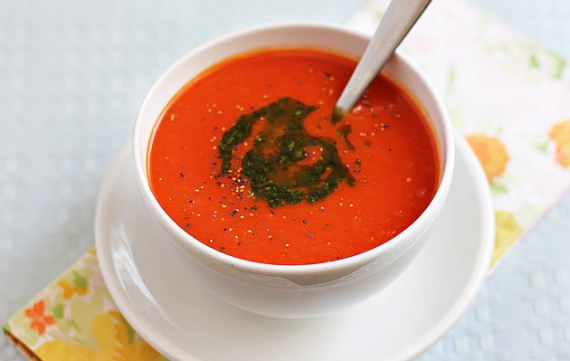 Oh, hello, Lover. Jamie Oliver's Tomato and Red Pepper Soup with Basil-Infused Olive Oil is an all-time favorite. It makes the whole house smell like the top of a ripe tomato, bright and peppery, and it goes with everything, including big, nasty grilled cheese sandwiches. Mmmm, Baby.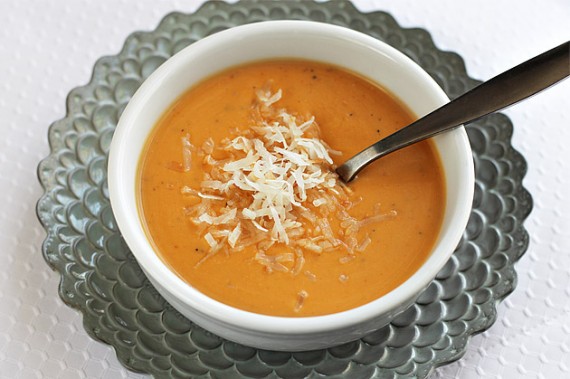 Usually bisque means cream, but this Coconut-Sweet Potato Bisque gets its silkiness from unsweetened coconut milk, so it's perfect for vegans. It smells like pumpkin pie at first, but once you add the salt, pepper and cayenne, order is restored to the universe. So warming and good.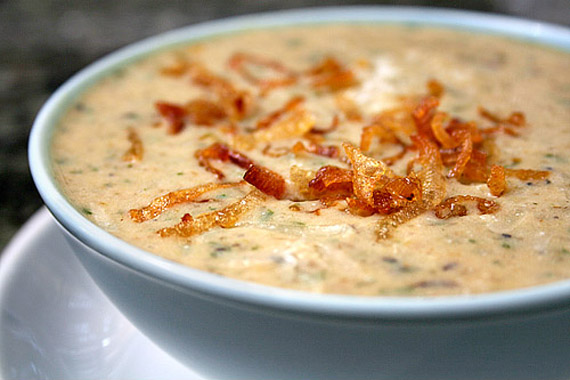 Ooh, I put my camera lens all up in this Roasted Potato Leek Soup with Crispy Shallots a few years ago, but it's still one of the best soups I've ever made. A ridiculously decadent, rich soup made with puréed vegetables, vegetable stock, white wine, cream, creme fraiche and Parmesan. You just don't even know. Make it and invite some friends over, because otherwise, you'll want to take a bath in it and lick yourself dry. Yes, IT'S THAT GOOD. And don't even think about skipping the crispy shallots. This is a take-it-to-the-bridge experience.
[ad name="space"]