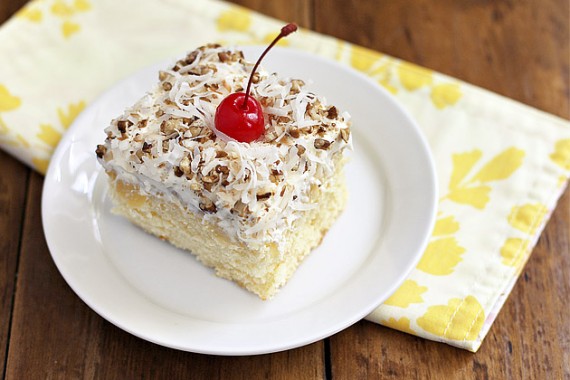 I love baking things from scratch, and I believe in eating real food, but to everything there is a season, including cake mix. I could get self-righteous about it all day long, but if you dangled a slice of Hawaiian Wedding Cake in front of my face, I'd have to relent. And grab a fork.
Because it's a big ole trashy diva of a cake, but I love it.
I love the way the crushed pineapple soaks into the cake while it's still warm. I love the shameful-but-awesome layer of vanilla pudding mixed with cream cheese and Cool Whip. I love the crunch of the toasted coconut and pecans that cover the top of the cake like confetti in Times Square on New Year's Eve.
And don't even get me started on those Maraschino cherries.
LOVE.
Hawaiian Wedding Cake

Makes 18 servings

1 (18.25 ounces) box of yellow cake mix, prepared with ingredients listed on the package

1 (20-ounce) can crushed pineapple, drained
1 (5.1 ounce) box instant pudding (vanilla, French vanilla or coconut)
2 1/2 cups milk
8 ounces cream cheese, softened
8 ounces frozen whipped topping (like Cool Whip), thawed
3/4 cup flaked coconut, raw or toasted
1/2 cup chopped pecans, raw or toasted
1 cup Maraschino cherries, rinsed, drained and sliced

Prepare the cake mix according to package directions. (You can substitute the pineapple juice drained from the crushed pineapple for the water, if you'd like.) Bake in a lightly greased 9-by-13-inch pan. (Use bake time given on package.)
Using a fork or toothpick, poke holes in the cake. Spoon pineapple evenly over the cake, and let the cake cool completely.
In a medium bowl, whisk together the pudding mix and milk. Set aside for 5 minutes.
Beat the cream cheese until smooth. Add pudding, mixing thoroughly.
Fold the whipped topping into the cream cheese mixture. Spread evenly over the cake, and refrigerate.
Sprinkle the coconut and nuts onto the cake.
For the best flavor, refrigerate overnight. Top with cherries just before serving.

To Toast the Coconut: Place the coconut on a rimmed baking sheet, and bake at 350 degrees F until golden, about 7 minutes. Stir at least once.

To Toast the Nuts: Place the nuts on a baking sheet, and bake at 350 degree F for 4 minutes.
[ad name="space"]