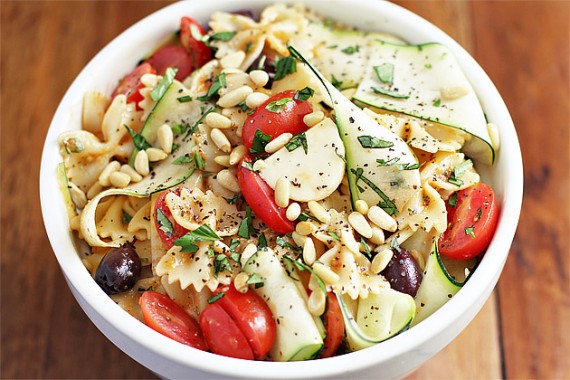 Dear Summer,
I'm sorry I've been wishing you'd go back to the hot hell you came from.
Without you, we would have missed out on key lime cupcakes at the farmers' market, late-night walks with Henry the Wonderdog, laughing at "National Lampoon's Vacation,"
packing that box of back-to-school pranks (like "shock gum!
) for the nephews, fireworks, those pink flowers that grow right outside the kitchen window  and sitting outside while the guys in the band down the street rehearse their transition from "Call Me Maybe" to "Sweet Caroline."
They're getting there.
You've also blessed us with a mess of zucchini and cherry tomatoes, so I made this Garden Pasta Salad with tomatoes, zucchini, bocconcini, fresh basil, toasted pine nuts and bowtie pasta. We're eating it tonight for dinner, but I'm thinking it would make a great cookout side.
Come for dinner. Bring ice cream.
Love,
Rebecca
Garden Pasta Salad


Adapted from "Food Network Magazine" (July/August 2012)

Makes 6 servings

1/4 cup pine nuts or slivered almonds

8 ounces small pasta (like corkscrew or bowtie)

Dressing:
1 clove garlic
1/2 cup cherry tomatoes
3 tablespoons red wine vinegar
1/4 cup fresh basil
1/3 cup extra-virgin olive oil
Kosher salt and freshly ground pepper

Salad:
1 small zucchini (OR 1 small cucumber, chopped)
1 1/2 cups halved cherry tomatoes
2 ounces bocconcini (small mozzarella balls), halved, OR 2 ounces fresh mozzarella, cubed, OR 1/3 cup cup black olives, pitted
1/2 cup fresh basil, thinly sliced
Kosher salt and freshly ground pepper

To Toast the Pine Nuts or Sliced Almonds: Place the nuts in a dry skillet over medium heat. Shake the skillet often, so the nuts brown all over. Transfer the nuts to another plate to cool.
Meanwhile, prepare the pasta according to the directions on the package. Add the garlic clove to the boiling pasta water for its last 2 minutes of boiling time. Put the garlic to one side for the dressing.
Drain the pasta, and rinse under cold water. Shake off the excess. Transfer the pasta to a large bowl, and set aside.
For the Dressing: Place the boiled garlic in a food processor or blender with the cherry tomatoes, red wine vinegar and basil. Blend until smooth. With the motor running, add the olive oil in a slow, steady stream. Blend until smooth, and season with salt and pepper. Set aside.
Toss the pasta with the dressing.
Shave the zucchini into strips with a vegetable peeler. Halve the strips crosswise, and add them to the pasta.
Add the tomatoes, bocconcini, pine nuts and basil, and toss. Season with salt and pepper. Serve immediately, or refrigerate, covered, up to 6 hours. (Bring to room temperature before serving.)

Nutritional Information (Per Serving) – calories: 318, fat: 18g, carbs: 34g, fiber: 3g, protein: 8g. (WW PP+ = 9)
[ad name="space"]